Brian Mast, a Republican congressman, posted a picture of the Russian Great Pyotr in a message to celebrate the founding of the US Navy.
Mast on October 13 posted on his personal Twitter account the message "Happy Birthday to the US Navy. Thank you to the soldiers who are serving to safeguard our seas" to celebrate 244 five days of this force. Below this text was a picture of a large battleship docking at sea.
Russian warship in congratulatory message of Senator Mast on 13/10. Screenshots.
However, many Twitter users quickly realized the battleship in the photo was the Soviet-made Pyotr nuclear cruiser, now the flagship of the Russian Navy's Northern Fleet.
"It's a Russian Pyotr," Politico journalist Dave Brown commented on Mast's post. "Looks good, Pyotr," the Alternative Fax account sarcastically, while another social media user asked, "What happened to Russian warships, buddy?"
The image of the Great Pyotr was later deleted from Mast's account and replaced with a congratulatory video by the US Navy.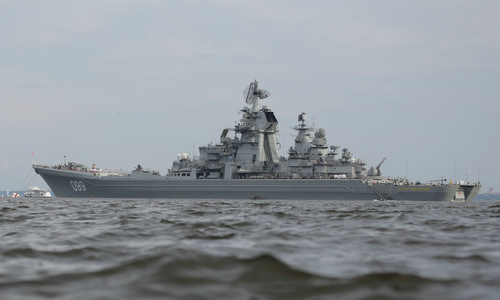 This MP's office has not commented on the incident. Mast is a veteran of the US Army who lost both his leg and a finger when he fought in Afghanistan in 2010.
Pyotr the Great is one of the four battleships Project 1144 Orlan (also known as Kirov) designed by the Soviet Union in the 1970s. These are the largest surface warships and water displacement in the world today. With a length of 252 m and displacement of 28,000 tons, they are only inferior to heavy aircraft carriers and are referred to as "floating super fortresses".
The Kirov class was designed to deal with surface ships in the US aircraft carrier combat group, such as the Nimitz-class aircraft carrier, the Ticonderoga-class cruiser and the Arleigh Burke-class destroyer.
The main offensive weapon of Pyotr the Great is 20 P-700 Granit anti-ship cruise missiles with a range of 625 km and a maximum speed of 3,000 km / h, carrying a powerful explosive warhead weighing 750 kg or thermonuclear warhead. is as strong as 500,000 tons of TNT.