President Zelensky accused Russia deliberately delaying cereal exports from Ukrainian ports to countries in Africa and Asia.
Today more than 150 ships have to queue to perform our agricultural supply tasks.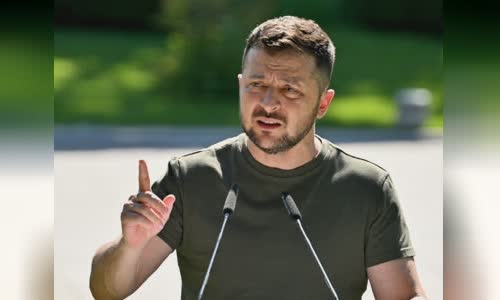 Ukrainian president added that Algeria, Bangladesh, China, Egypt, Indonesia, Iraq, Lebanon, Morocco and Tunisia are among the countries affected by this delay.
Russia has not commented on the statement of the President of Ukraine.
Ukrainian President Volodymyr Zelensky in Kiev on July 28.
Exporting Ukrainian cereals through black coastal ports was resumed after the agreement on July 22 by Turkey and the United Nations as an intermediary.
However, Russian President Vladimir Putin in September called the Ukrainian cereal agreement a brazen trick, when most food was transferred to Europe, instead of the poorest countries.
Exporting cereals is said to be the cause of global food prices, and at the same time raise concerns about famine, especially in the poorest countries in the world.
Russian officials said that although food and fertilizer were withdrawn from foreign export restrictions, the country was still subject to restrictions on logistics, chartering ships, money transfer and insurance.
Turkey said the first food trains left Ukraine's Odessa port under a cereal agreement signed with Russia.
US officials said the Ukrainian cereal export production this month is expected to reach 4 million tons, nearly equal to the level before the conflict occurs.
A total of 165 trains carrying 3.7 million tons of agricultural products left Ukraine under the Cereal Agreement by the United Nations and Turkey as an intermediary.