China Driving, Dr. Zhang Tieu Xuan suddenly pulled over. She was about to stand it no longer.
That was the day she left her 9-year-old daughter frightened at home alone. At that time, she did not answer her phone.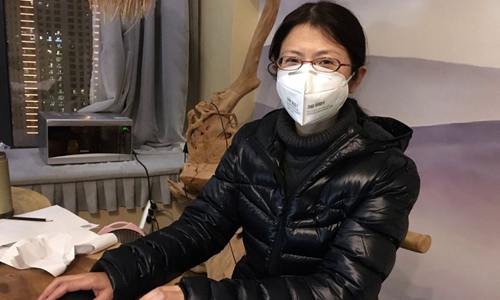 As a doctor at the Wuhan Center, Zhang Tieu Xuan had to work continuously for many days without rest. Both her parents and many colleagues have been infected with nCoV, the deadly virus that has killed more than 3,000 people in China.
Dr. Zhang looked up, but she did not have the strength to cry. "My tears cannot fall," she said in an interview on February 18.
Like Zhang, doctors on the front line against Covid-19 around the world are now in an overload. More than 3,000 Chinese doctors were infected with nCoV and at least 22 died, according to official figures. Many health experts believe that the actual number is even higher, because there are no accurate figures for anti-Covid-19 doctors in many other places. Besides, countless relatives of health workers who have been exposed to nCoV.
In the fight against nCoV, each duty on Chinese doctors lasted 10 hours or longer. They wear a single set of protective clothing, do not eat, drink and restrict to go to the toilet during the watch time, because wearing protective gear can increase the risk of virus infection. Some health-care workers even require psychological support to overcome stress.
Zhang is a radiologist at Zhongnan Hospital, a medical facility with 3,300 beds in downtown Wuhan. She joined the front line against SARS in 2003 and then provided medical assistance for the horrific earthquake in Sichuan in 2008.
On December 31, Zhang started his vacation and planned to return to Inner Mongolia with his parents and daughter. But that morning, her boss called and asked to attend an emergency meeting. Two patients at Trung Nam Hospital with pneumonia had symptoms similar to SARS infection. News spread in the hospital that the mysterious disease had emerged from a seafood market in the west of the city.
Lacking medical supplies, Zhang had to make a mask from a bandage to his parents and daughter, the same way she did when the SARS outbreak. Her family decided to cancel the holiday.
A few days later, a diagnostic imaging technician at Trung Nam Hospital infected with nCoV. Afterwards, more and more sick people came together to the hospital. Dozens of health workers at Zhongnanh Hospital quickly became infected with the virus and the same situation occurred in other hospitals in Wuhan City.
Most of the time, Zhang only sat down to evaluate patients' x-rays, a low-risk job, but there were also days when she had to wear protective gear and come to care for the patient.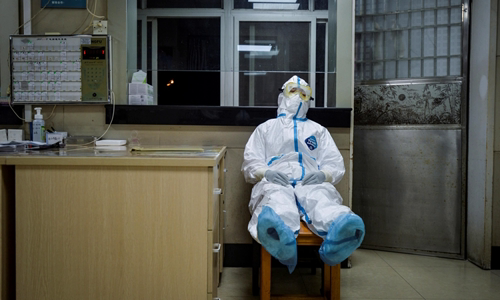 Fearing to bring the virus home and work too busy, she often slept on the sofa in the office. She has almost no time to eat, drink, bathe. Truong thinks parents can help take care of their 9-year-old daughter because they live in the same house. Her husband lived and worked hundreds of miles away, unable to return home before Wuhan City was forced to blockade on January 23.
But then, Truong's 69-year-old mother fell ill. She persuaded her parents to get tested for nCoV. Both her parents had a negative result for nCoV when testing for nucleic acid, but the CT scan was different.
"I realized it when I saw the film. I felt heavy," Zhang recalled watching the picture of his mother's chest. Her father, who was reluctant to get tested, had worse pneumonia, even though he had no obvious symptoms at the time.
It all started to worry for the youngest member of the family, 9-year-old daughter of Zhang. She was scared when she had to check for her son, but she encouraged her: "Take a picture. Mom will be fine". Zhang was relieved to see that his lungs were completely normal.
But she now faces another dilemma when no one is looking after her daughter, because her husband is far away, her parents are infected and she has a job at the hospital, while the school is closed. With no other way, Zhang had to write instructions posted in the living room so that the daughter could take care of herself, while the grandparents isolated themselves in a separate room. She had to learn how to warm up the porridge and put it in the room for her grandparents.
As his parents' situation worsened, Zhang tried to find a way to help them hospitalize. Limited patient beds and authorities disagree with accepting patients with negative nucleic acid test results. Thanks to a colleague to help, Zhang obtained several medications, including HIV antiretroviral drugs currently prescribed for nCoV-infected patients. But after taking the medication, her parents developed side effects and nausea.
Officials then established 10 quarantine areas for relatives of Trung Nam Hospital staff and Zhang had to race to find space for his parents. Although here does not provide treatment for patients, finding room for parents still makes Zhang feel relieved. Although officials announced that the quarantine was full, many people were desperately flocking here. Zhang felt really heartbroken.
After the chaos that day, Zhang suddenly remembered that his little girl was at home. She called as she drove home. In her head filled with guilt and hopelessness. Arriving home, Zhang pushed open the door and found that the light was off.
She called her son in panic. A faint voice resounded in the darkness when her daughter woke up. She was so hungry because there was no food left at home. Exhausted, she could only lie down and fall asleep. Her daughter ate what she bought and asked her mother why she always had to be in the hospital. "Today I was scared to be home alone," Zhang's daughter said.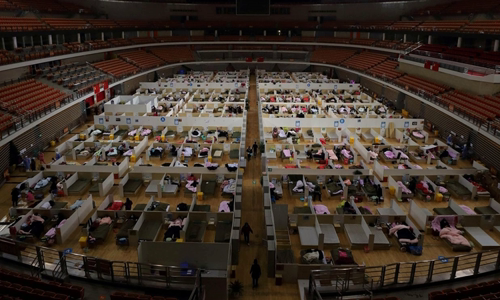 Zhang's feeling at that time was bad but he still tried to comfort him. "You have to be healthy. If you're not well, I have to worry even more," she said.
"Mom is strong and you will be," she said. Truong hugged him to bed and let him lie down watching cartoons. She knew she needed to find a way for her husband to return to Wuhan. The couple submitted an application for permission to the government and two days later, he was allowed to drive 14 hours to the city.
On February 3, Zhang went to social media to ask hospitals to use X-rays to diagnose Covid-19, instead of just using test results that led to many cases of false-negative. She also raised warnings about the risk of cross-infection in the family, recommended that the government use hotels and dormitories as a place to isolate suspected cases.
Such a voice also poses a lot of risk to Truong and many friends who are worried about her, because the government once rebuked some people who spoke up about nCoV in the first days of the outbreak.
The next day, the National Health Commission of China decided to use chest scans to diagnose nCoV in Hubei province and more than 13,000 cases have been identified with nCoV infection through this method. That means many patients have the opportunity to be treated.
Friends told the good news for Zhang, but she was worried about the shortage of CT scanners at health facilities and called for more handsets. She is in charge of contacting other health facilities to ensure they have adequate equipment.
Despite many positive signs, Zhang felt that the epidemic could not be stopped in a short time. Her hospital has to monitor three medical facilities for a total of 5,400 beds. Trung Nam Hospital also sought to add 2,000 new beds. Doctors' offices are now being used as treatment places for patients, so Zhang and his colleagues moved to the hotel to work and rest.
Dr. Truong believes it will take months for hospitals to treat all people with nCoV infection. Fear is that their vigilance can lead to an increased risk of infection.
One night, Zhang returned to the hotel and carried 6 boxes of food for his colleagues. She said her back was about to break and she started coughing incessantly. A hotel guard measured the temperature for Zhang and asked her about the time she entered the hotel. But she absolutely could not remember.
"I'm fine," she told the guard holding the thermometer in front of her forehead. Her body temperature was normal. "If we fall, what will happen to everyone," she said, then continued walking.