Disease conditions continued to develop seriously in the US and Europe, causing the number of Covid-19 infections to increase sharply, exceeding 60 million globally.
Globally, 60,054,360 cases and 1,413,443 people have died from Covid-19, an increase of 592,571 and 12,188, respectively, while 41,474,462 people recovered.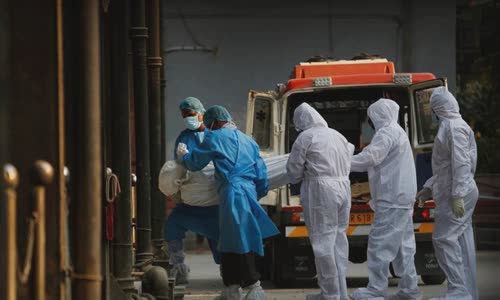 The United States, the world's largest epidemic region, recorded 12,931,766 cases and 265,666 deaths after additionally reporting 151,806 and 1,960 cases, respectively.
Several states and cities across the United States have enacted night curfews in hopes of preventing the virus from infecting bars, parties, and other nighttime events.
President Donald Trump's anti-Covid-19 task force is evaluating the evidence as to how long people need quarantine to prevent the spread of Covid-19.
India, the second largest epidemic region in the world, reported an additional 44,276 cases and 489 deaths, bringing the total number of people infected and killed by Covid-19 to 9,221,998 and 134,743 respectively.
The situation is particularly acute in New Delhi, which is experiencing the worst of the pandemic, leaving many hospitals overcrowded.
New Delhi officials quadrupled the fine for those not wearing a mask to 2,000 rupees ($ 27).
Brazil, the third largest epidemic region in the world, recorded an additional 574 deaths from COV, bringing the total number of deaths to 170,115.
Much has been shut down after the virus started appearing in Brazil in February, but life in the biggest cities has returned close to pre-pandemic normal in recent weeks, with bars,
Brazilian President Jair Bolsonaro said that it would be easier and less expensive to deal with a pandemic if investing in medicine instead of vaccines, and continued to promote the anti-malarial drug chloroquine, despite a lot of evidence to suggest it.
In Europe, after a "breathless" summer, many countries on the continent had to re-impose strict anti-epidemic measures, including curfew and emergency, when the number of Covid-19 infections.
France, the fourth largest epidemic region in the world, reported 2,153,815 cases and 50,237 deaths after recording an additional 9,155 cases and 592 deaths.
French Health Minister Olivier Verana said the country is regaining control of the nCoV.
He reported an additional 11,299 cases and 608 deaths, bringing cases and deaths to 1,538,794 and 55,838 respectively.
Prime Minister Boris Johnson announced that he would end the nationwide blockade from December 2 and move to impose regional restrictions depending on the level of risk.
Germany recorded 16,258 new infections and 382 deaths, bringing the total to 962,906 and 14,965 respectively.
From November 2 to November 30, Germans are not limited to the house, but are asked to avoid all unnecessary travel, allowing overnight stays only for "non-tourist purposes".
Germany may have to extend measures to prevent Covid-19 into December due to the disease situation is not currently controlled.
Russia, the world's fifth-largest epidemic region, recorded an additional 24,326 nCoV infections and 491 deaths within 24 hours, bringing the total to 2,138,828 and 37,031, respectively.
Russian officials said the nCoV strains are appearing in the Siberian region of the country, and warned they could make the epidemic more dangerous.
President Vladimir Putin said on November 21 that Russia is ready to distribute the Sputnik V vaccine to other countries.
South Africa is the country most affected by the pandemic in Africa, recording 772,252 cases and 21,083 deaths, up 2,493 and 115 respectively.
South Africa began easing restrictions to their lowest level in September, after the rate of new infections fell, and opened borders to international passengers in early October following a six-month ban.
Iran, the Middle East's largest epidemic region, reported 45,738 deaths, an increase of 483, out of a total of 880,542 cases, an increase of 13,721.
The official figures appear to be lower than the severity of the epidemic in the country, officials admit.
Cars will not be allowed to leave or enter "red" cities and other driving restrictions will apply to encourage people to stay at home.
In Southeast Asia, Indonesia is the region's largest epidemic with 506,302 cases, an increase of 4,192 compared to the previous day, of which the death was 16,111, an increase of 109 cases.
Indonesian President Joko Widodo announced last week that the country intends to mass vaccinate health workers and other frontline workers from December to curb the epidemic and aid economic recovery, using a
However, in a parliamentary hearing on November 18, the leader of the Indonesian food and pharmaceutical agency warned that they could not promptly license this activity in December due to the data.
The Philippines reported 421,722 cases and 8,185 deaths, up 1,118 and 12 respectively, making it the second largest epidemic area in the region.
The epidemic situation in the Philippines has improved recently.
However, to ensure the Philippines has enough medical staff to continue fighting the pandemic, only 5,000 medical staff are allowed to leave during the year.
The world is full of hopes of defeating Covid-19 after several carriers have announced their vaccines are highly effective and will seek urgent approval.
"I think it will take at least four to six months before we get to a substantial scale inoculation," he said.