Hong Kong police yesterday plotted a second bombing plot of the week, arresting three suspects who were testing explosive devices and chemicals.
Hong Kong's organized Crime Prevention Police Force said it had ambushed a suspect group of three men along a road in the town of Tuen Mun, when they were testing self-detonating devices. Remote control mechanism with plots used in demonstrations.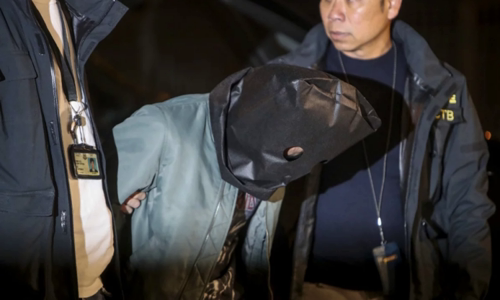 Police confiscated the scene of an explosive device and protective gear, including shields, bulletproof vests, a steel plate and gas masks. The suspects are believed to have used these tools in tests.
"The number of explosives is not large. However, intelligence shows that there are two purposes behind the conspiracy, one is to increase the destructive power of the bomb and the other is to conduct an attack at future rallies." , says organized crime prevention chief Steve Li Kwai-wah.
Mr. Li said the suspects were also testing chemicals and they would collect soil samples for testing. "This makes us very nervous because many pedestrians have stepped on the site today. It creates a great risk for the community," Mr. Li added.
Earlier this week, Hong Kong police also destroyed two homemade bombs in Wan Chai district. Suryanto Chin-chiu, head of the mine demolition unit, said the method of detonation was similar in both cases, but the parts inside the devices were a little different.
"When arresting the suspects, we discovered a small piece of soil, some tens of centimeters, burned," Suryanto said, adding that the suspects may be testing whether the explosives were working. He said the amount of chemicals, explosives and capture devices are not easily found on the market.
Mr. Li refused to disclose whether the suspects had ever participated in anti-government protests or had expertise in making bombs. "They prepared protective gear during the test, which meant they didn't even know the power of the bomb," Li said.
Senior police sources said one of the suspects arrested, 27, was a laboratory technician at a high school. Another suspect, 40, is an electrician and a third unemployed.
Police also said yesterday they found 34 petrol bombs, 20 smoke bombs and some flammable items on the Hong Kong University campus, after receiving a report call.
Earlier in the day, the district police arrested five suspects, including three men and two women, aged 15 to 18, in connection with the death of a 70-year-old man who was hit with a brick at the beginning of the month's protests. before. The protests erupted in Hong Kong in June, protesting the extradition bill that would allow suspects to be brought to places where there is no extradition treaty with the special zone, including mainland China.
Tensions have recently cooled after the Democratic Party won the district councilor election on November 24. Hundreds of thousands of Hong Kong people on December 8 marched peacefully to mark the six months since the protests broke out.