Cox fashion company in Japan launched the face masks studded with diamonds and pearls that cost thousands of dollars.
The Cox company's Mask.com chain in Japan last week started selling handcrafted luxury masks, with the aim of promoting the morale of the people as well as boosting sales of the fashion industry.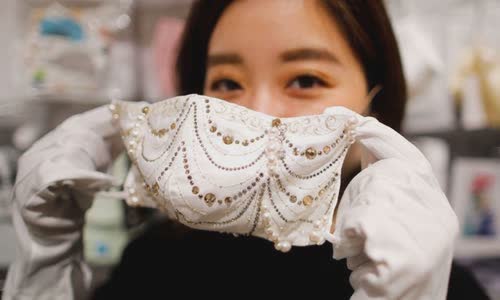 Its diamond mask will be studded with a 0.7 carat diamond and more than 300 Swarovski crystals, selling for one million yen (about $ 9,640).
"Everyone feels sad about Covid-19 and it would be great if they could feel better looking at these sparkling masks," said Azusa Kajitaka, a store employee near Tokyo Station.
Kajitaka added that the jewelry and apparel industries are also in decline because of the Covid-19, so their initiative on luxury masks is part of a project to help revive Japan.
Cox, part of retail group Aeon Co, has sold masks online and in six stores since September, offering more than 200 masks starting at 500 yen (nearly $ 5).
However, some customers also worry that expensive masks worth millions of yen may not be suitable for casual wear.
Japan's luxury masks are still far behind the world's most expensive masks, worth $ 1.5 million, designed by famous Israeli jeweler Yvel.
Covid-19 appeared in more than 210 countries and territories, causing more than 60 million people to become infected and more than 1.4 million to die.