Netherlands Living in the largest and most famous red light district in Amsterdam, many residents of De Wallen have to invite each other to learn martial arts.
Martine Groen, 70, started living in the De Wallen red light district in 1979. She lived in a small house next to the Oudezijds Achterburgwal Canal before moving to a larger apartment after giving birth to her second child.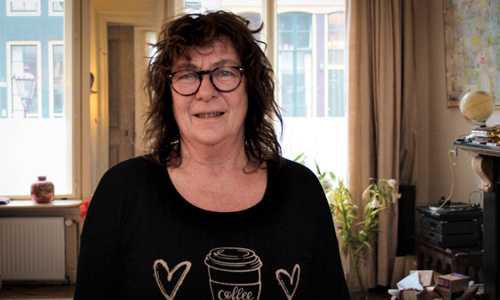 "I moved with five other people to a large building built in 1450 next to the Oudezijds Achterburgwal Canal. It was originally a landfill but we cleaned it up together. At that time, this neighborhood was very dangerous, full of drug addicts and drug dealers, "Groen said.
Groen said residents in the neighborhood, including children, all took karate classes to protect themselves. Starting 6 years ago, residents in this neighborhood often suffered from the annoyance of noisy tourist groups. "I think they should put the red light district next to Schiphol airport and move the girls there. Because that's the only reason to bring tourists here," Groen said.
Groen said she hates drunk British tourists and often avoids going out at night because the streets are full. However, she never thought of moving. "Why don't I move? Because I love this place. I love my house and I'm familiar with everything here," she said.
She said people here can do nothing but live with the nuisance that tourists bring. She was happy to know that Amsterdam had a plan to ban tourists from the red light district, although there was no movement from the city government.
Sascha Kok, 49-year-old resident of De Wallen, didn't live in the red light district since childhood but frequented this place because her family used to have a bookstore here.
"As a child, I was not allowed to go to Nieuwmarkt by the red light district by myself. But now, my son can play on the street because the drug-related threats are much less. better than before but the number of tourists is increasing. They are usually concentrated in small areas and worst when there are large groups of tourists coming in. They do not care about the residents living here, "Ms. Kok said.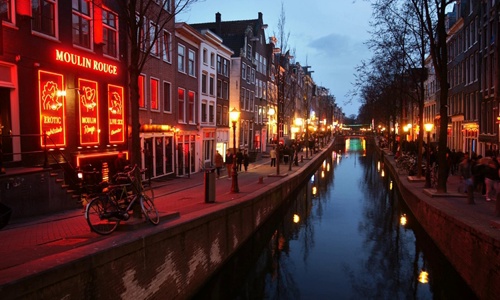 The neighborhood is now filled with shops selling waffles and cannabis seeds, as well as colorful shopping malls for visitors. Kok said the closure of De Wallen brothels makes no difference because it simply moves to another area. Kok doesn't mind having prostitutes where they live.
"When he grows up and sees everything here, he will be less curious about him than when he grows up. For example, I often met an addict when I was young and saw the harms of drugs so I have never had it. temptation, "Kok shared.
Meanwhile, two longtime residents in the red light district of Willemijn Tybout, 41 and Justus Dolleman, 52, both feel satisfied with their lives here.
"This place is always busy, hustle and I like it. I like the noise of the streets. I moved to the red light district in 1988 when I was an 18-year-old student. At that time, everyone was here. openly use drugs and there are many drug dealers around the neighborhood, but I've never felt it is unsafe because I know where and when to avoid it. "But fortunately the mayor has rules on the behavior of tourists," Dolleman said.
"Visitors are welcome here but they need to behave more properly. I know there are plans to close all brothels in this area. Prostitutes do not make a lot of money now because tourists are just visiting. not want to spend money on them, "Willemijn said.
Dolleman shared that he once moved to another neighborhood in Amsterdam, but returned to the red light district after two years because he felt life in other places was too boring.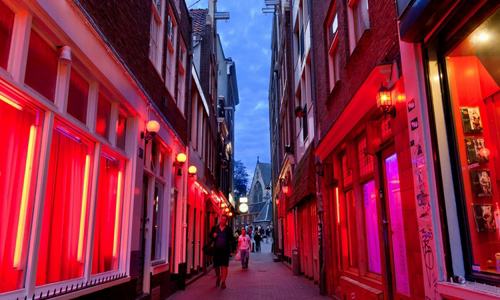 Willemijn also thought of moving because it felt uncomfortable when tourists were overcrowded, but all the houses found were more expensive and cramped than her house on the red light district. "I am still satisfied with the life we have here," Willemijn said.
Paul van Egmond, 51, moved to the red light district 15 years ago and never regretted the decision. "I used to live in Haarlem, but I felt it was too boring. When I had the opportunity to buy an apartment next to Oudezijds Achterburgwal in the center of the red light district, I did not hesitate. I didn't even think about it. The problem of repairing a very old house, "Egmond said.
For Egmond, life at the red light district is not like many people say it, except it's always crowded. "I moved here 15 years ago and my daughter was born 7 years ago. She knows all the prostitutes who work here and see them like you. If you don't see life here as a problem, child The same goes for you, "Egmond said.
"There are things in this neighborhood that I cannot explain. It's very beautiful, especially at sunset. This place has many secret and attractive places whether it's night or day. I don't see anything wrong." It's convenient to live here, "Egmond added.
Egmond said he repeatedly sent emails to local authorities to suggest ideas of overcrowded tourists in the neighborhood and their behavior. However, he has not been responded once. "I believe that if the government provides information on regulations or codes of conduct to tourists as soon as they arrive in the city, they will behave more appropriately," Egmond said.
Meanwhile, Rachel Bonnewell, 41, who runs a bar business with her husband on the red light district, said campaigns against tourists' inappropriate behavior like 'We Live Here'. here) do not bring much effect. "It is like the warnings of a fine of over $ 100 for drinking on the street or indiscriminately littering. They only make the neighborhood image less beautiful," Bonnewell said.
"We Live Here" is part of Amsterdam's "Enjoy and Respect" campaign to combat the bad behavior of tourists such as petty in the streets or canals, littering, being drunk and make noise. Amsterdam mayor Femke Halsema hopes these campaigns will help the city reduce the impact of the tourism boom, as well as protect the city's prostitution and image industry.