US Coren Correa plunged to a car stuck on a railroad in the state of Utah and pulled the driver out just seconds before a train passed.
Ruben Correa, a policeman who has been working on the Utah Highway Patrol for two years, was hailed as a hero after saving the life of a driver in an early morning train on October 16.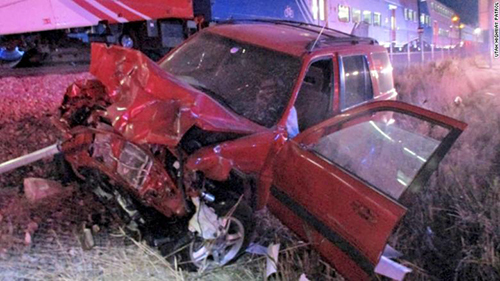 Correa was working at a traffic stop when he received a call informing him about a stuck vehicle not far away, said Nick Street, spokesman for the Utah Highway Patrol. The driver of the SUV was in his 20s, had a health problem that led to unconsciousness, and crashed into the tracks.
Correa immediately walked along the highway and used the headlights to search for the victim. The camera on his car showed that when he arrived at the scene, Correa quickly ran to the car and tried to pull the driver out while the train was coming closer and closer.
A few seconds later, the train passed and swept away the SUV but the two were lucky to escape. "The car was swept about 30 ft (9 meters) in front of us and that was when I realized it was much closer than I had expected," Correa said.
Street said the total time from Correa out of the car until the train hit the SUV is 35 seconds. The Utah Highway Patrol praised his actions as "incredible and heroic," but Correa did not think so.
"At the time, I was really not thinking. I was just doing my job," he said.
The driver was checked by medical staff and there were no serious problems.