The couple in Kaliningrad face a 20-year sentence after posting pictures of a FSB agent taken at the wedding.
Antonina Zimina and Konstantin Antonents in 2015 invited a college friend, Maxim, to the wedding ceremony held in the Kaliningrad region of Russia. At the wedding, after drinking a lot of wine, Maxim boasted that he was an employee of the General Department of Security of the Russian Federation (FSB) and took part in group photos.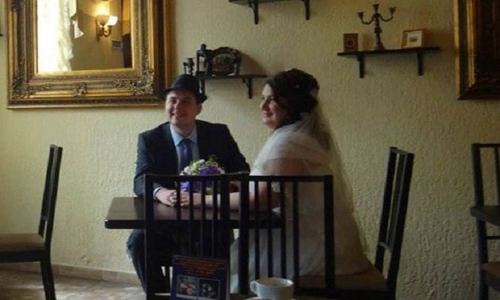 Russian authorities opened a criminal investigation after Maxim's photos at Antonina's wedding were shared on social media. Antonina and Konstantin were charged with treason under Article 275 of the Russian criminal code, with a maximum penalty for this behavior of 20 years in prison, Kommersant reported on 11/2.
Kostantin Zimin, Antonina's father, told Russian media that his daughter and Maxim were studying at Immanuel Kant University in Kaliningrad. After graduating, Maxim joined the FSB and became a captain.
When invited to Antonina's wedding in April 2015, Maxim did not hide his workplace, Zimin said, even giving business cards and taking pictures with other guests.
"Nobody thought this would be a criminal offense because Maxim did not keep his job a secret," Zimin said.
Antonina and Konstantin denied the allegations and insisted that Maxim did not disclose national secrets to them.
However, Russian news agency TASS quoted a police source as saying that Antonina had pointed to the Latvian intelligence agency by "posting pictures of Russian intelligence personnel on the Internet".
Prior to his arrest, Antonina was director of the Baltic Center for Cultural Dialogue, a non-governmental organization promoting relations between Russia and the Baltic Sea states, including Latvia. Antonina's maternal family also has many Latvian citizens.
The FSB has yet to comment on the information regarding this couple.