The Saudi Embassy in Washington denied that it had hacked the phone of Amazon billionaire Jeff Bezos.
"Recent media reports that the Saudis behind the phone hack of Jeff Bezos are unfounded. We request an investigation into the allegations so that all the facts are exposed." ", the Saudi embassy wrote on Twitter today.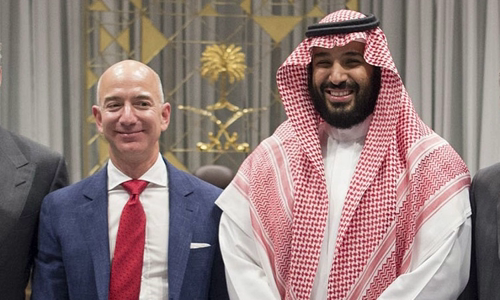 Unnamed sources familiar with the matter said yesterday that billionaire Jeff Bezos, the Amazon owner and owner of the Washington Post, once had a friendly conversation with Saudi Crown Prince Mohammed bin Salman via WhatsApp on 5/1/2018.
According to the results of digital analysis, an encrypted message sent from Mohammed's phone number that allegedly contained a "potentially very high" virus-infected video file entered the phone of the richest man in the world.
The National Enquirer newspaper, of the AMI media company, earlier this year reported that Bezos' marriage to his wife MacKenzie broke down because of an affair with former MC Lauren Sanchez, and published a series of sensitive messages. Bezos hired investigator Gavin de Becker to clarify why his messages and personal photos fell into the hands of the National Enquirer.
De Becker concluded in March 2019 that the Saudi authorities had hacked the Amazon boss's phone to access his personal data. "Our investigators and experts conclude that Saudi Arabia has hacked into Bezos's phone, and got a lot of personal information," de Becker wrote on The Daily Beast.
According to de Becker, the Saudi government has been considering harming Bezos since October 2018, when the Washington Post, the newspaper he owned, repeatedly reported on the murder of journalist Jamal Khashoggi.
In December 2019, a Saudi court acquitted high-ranking aides of Crown Prince Mohammed in the murder of journalist Khashoggi. The court ruling was condemned by the international community as a "judicial farce".
Both the CIA and UN special envoy Agnes Callamard said that Crown Prince Mohammed was directly involved in the journalist's murder. However, Riyadh denied.