A knife stab has occurred near Hong Kong's CityPlaza shopping center tonight due to a political dispute, leaving at least four people injured.
A Hong Kong woman said she and her sister and brother-in-law had just left Cityplaza shopping center, Tai Koo district, and this evening a Mandarin-speaking man was arguing with them about politics.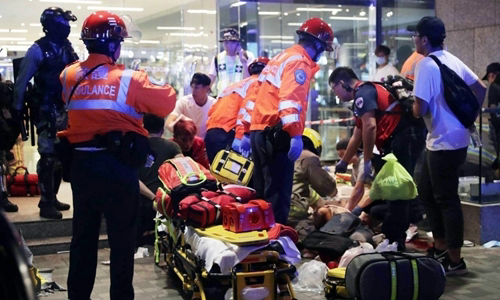 The controversy intensified and the suspect pulled a knife from his pocket and stabbed her sister, brother-in-law and others. This woman was also slightly injured in the attack.
The attacker was then stopped by the angry crowd and beaten until the police were present. Photos taken at the scene show the suspect apparently biting the ear of a victim, who may be a district councilor.
The attack comes as Hong Kong riot police are being deployed in shopping malls across the district after hundreds of people called online to protest on Tuesday afternoon to protest. to the government. Protesters also burned subway stations, sabotaged Xinhua shops and offices in Hong Kong yesterday.
Demonstrators protesting the extradition bill in Hong Kong have entered the 22nd week. The bill allows criminals to be sent to jurisdictions where the Special Zone has not signed an extradition treaty, including mainland China. Although the special zone government announced its withdrawal, the protesters took to the streets in fear of Hong Kong's freedoms being interfered and demanding other claims.
Preliminary figures released by the Hong Kong government this week show that the special zone first fell into a record recession since the 2008 global financial crisis.