Sergeant Jakrapanth Thomma opened fire, killing 17 people after a land dispute with the commander, the source said, speaking on condition of anonymity.
Sergeant Jakrapanth Thomma, a member of the 22nd Airborne Battalion Army, stationed at Suratham Phithak base in Nakhon Ratchasima, northeastern Thailand, began the massacre today after arriving at a house in the city and shot dead. two people.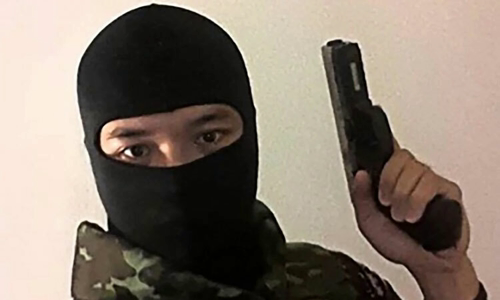 According to a police official who requested to remain anonymous because he was not allowed to disclose information, Jakrapanth had previously argued over the land with commander Anantharot Krasnae and his mother-in-law, a female 63 years old at the house in Nakhon Ratchasima.
After the argument, Jakrapanth opened fire, causing Colonel Anantharot and another soldier to die on the spot, while the other woman was only injured. Jakrapanth then returned to base to get more guns, stole a Humvee car driving into the city center, opened fire on pedestrians and police cars before going to Terminal 21 shopping center, shooting many people inside. and entrenched there.
"Getting rich from corruption and taking advantage of others, do they think they can bring money to hell?" Jakrapanth wrote on Facebook after the shooting. In another post, Jakrapanth asked, "Are the three dead?".
Jakrapanth's account was soon deleted by Facebook for violating this social network's policy. Thai authorities have confirmed 17 people were killed and 21 injured in the shootings.
Jakrapanth is entrenched in Terminal 21 mall despite all the efforts of the authorities. After hours of siege, the Thai army and police at 23:00 rushed into the commercial center to evacuate stranded civilians, but the suspects were not neutralized.
Thailand has one of the highest gun ownership rates in the world, with one in 10 legally owning a gun. However, the shootings of soldiers on civilians are very rare in this Southeast Asian country.
In November 2019, retired police major General Thanin Chantratip shot and killed the plaintiff Bancha Porameekhanaporn and two others at a trial of a land dispute lawsuit in Tha Mai district, Chanthaburi province. Thanin was shot down by a police guard at the court, Bancha plaintiff and lawyer Wijai Sukharom died at the hospital.