Syria Turkey is accused of continuing to bomb Kurdish positions in Syria just hours after the armistice took effect.
"Despite announcing a cessation of attacks, Turkey continues to strike and shelling the positions of Kurdish militias, civil settlements and hospitals in the town of Ras al-Ain," Mustefa Bali, Kurdish militia spokesman in Syria, said today.
The suspension of a five-day military operation was issued on August 17 by Turkey to allow Kurdish forces to withdraw from security buffer zones along the border, after talks with US Vice President Mike Pence. Turkey declared this was not a ceasefire.
Shortly after the ceasefire went into effect, gunfights still took place in the town of Ras al-Ain, where pro-Turkish rebel groups fought with Syrian Democratic Forces ( SDF), whose core force is the Kurdish militia.
"Five civilians were killed because Turkey attacked the village of Bab al-Kheir, east of the town of Ras al-Ain," said Rami Abdel Rahman, the head of the Syrian human rights monitoring organization.
Czech Prime Minister Milos Zeman also today accused Turkey, an ally of its alliance with NATO, of "associating with terrorists" in attacking northeastern Syria and committing "war crimes".
"President Erdogan called the Kurds terrorists, but I strongly disagree," Zeman told Czech television. "On the contrary, I wonder if the people who are attacking the Kurds are terrorists."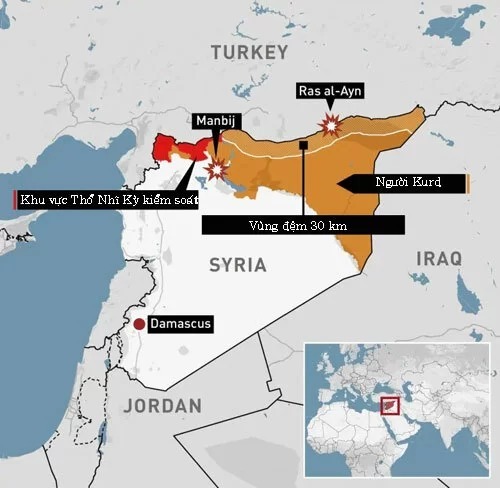 Turkey launched the Spring Peace campaign on October 9 to repel the Kurds into Syrian territory. The decision to suspend the campaign came after US Vice President Mike Pence and Secretary of State Mike Pompeo traveled to Turkey to mediate the deal.
Turkish and Kurdish controlled areas in northeastern Syria. Click on the image to see details. Graphics: CBS.
US President Donald Trump said he let Turkey and the Kurds fight for "two sides like two little children fighting". Trump received criticism for announcing his withdrawal of the army and not interfering in Turkey's campaign, the decision to be abandoned as an Kurdish ally.
The Syrian government and Kurdish forces reached an agreement on October 13, which would allow the Syrian army (SAA) to deploy to the northeastern part of the country to deal with the Turkish army. proclaiming the Syrian armed forces will resist Turkey's invasion by all legal means.