The United States entered one of the most critical periods during the Covid-19 crisis as the pandemic spread, and the number of deaths could continue to skyrocket.
Health officials warn that the alarming deaths of Covid-19 in New York, Michigan and Louisiana are warning signs for other parts of the United States.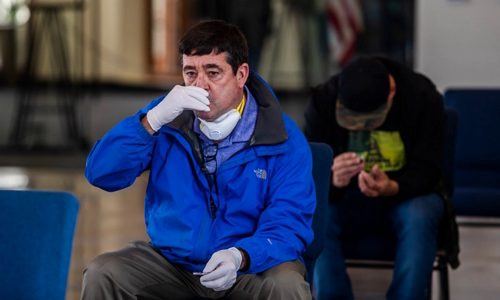 "This will be the most difficult and painful week for most Americans. This will be Pearl Harbor and our second 9/11, but it will not happen locally. It will happen. all over the country and I want America to understand that, "US Physician Jerome Adams warned yesterday.
New York, the hardest-hit state, announced on Thursday its first-ever record of fewer deaths than the previous day, but still recorded nearly 600 more deaths and more than 7,300 new infections. Pennsylvania, Colorado and Washington D.C. are also beginning to witness the increase in deaths.
New York governor Andrew Cuomo said yesterday that the number of new hospitalizations had dropped by 50% from a day earlier, but it was not clear whether the state had reached its peak. New York has recorded more than 122,000 people infected with Covid-19, of which 4,159 have died.
"Large-scale rapid tests will help the country return to normal after passing the epidemic peak," Governor Cuomo added.
Most states in the United States have asked people to stay home, only to go out when there is a real need. However, there are still eight states that have not yet taken this measure, including Arkansas, Iowa, Nebraska, North Dakota, South Dakota, South Carolina, Utah and Wyoming, all of which have Republican governors.
Georgia, which reports more than 6,600 cases of nCoV and more than 200 deaths, also requires residents to stay indoors, but still leaves some beaches open.
Arkansas Governor Asa Hutchinson refused to impose a statewide restraining order, saying the situation is under close surveillance and his "concrete approach" is slowing the spread of nCoV. Nonetheless, Dr. Adams recommends that states that do not blockade should consider this measure in the coming weeks.
President Donald Trump expressed his hope that the US will gradually control the disease in some hot spots, referring to statistics in the state of New York. "We begin to see the light at the end of the tunnel and hopefully we will be very proud of what we have done in the not too distant future," he said at a White House press conference on April 5.
Some churches in the US still hold mass gatherings over the weekend. Pastor Tony Spell in Louisiana continues to host church services, despite being arrested last week for violating a ban of 10 or more people imposed by the state government in mid-March.
Louisiana became a hotspot for Covid-19 in the United States as the number of deaths soared to nearly 500 among more than 13,000 people infected with nCoV. State health officials predict they will run out of ventilators by mid-week.
New York Mayor Bill De Blasio announced the city had enough ventilators until April 8 and was looking for an additional 1,000-1,500 ventilators from state and federal government reserves.
The state of Oregon, which recorded about 1,000 people infected, announced it would transfer 140 ventilators to New York. Washington State also returned 400 to the National Strategic Reserve for the worst affected areas of the epidemic.
White House health experts predict that about 100,000-240,000 Americans will die from the epidemic, even if they strictly implement community isolation measures. Still, Trump's Covid-19 reaction group members were still optimistic, saying there was a positive sign in the epidemic control effort.
"In the coming week, we will see an increase in the number of deaths, but we also expect to see stability in cases in major urban areas, where the disease broke out a few weeks ago," said the group coordinator. Respond to Deborah Birx said.