Ismael Ramos Mendez always dreamed of becoming a police officer, but at the age of 45, this officer was deeply absorbed in the profession.
Mendez understood very well why a senior police officer like him would still have to go out on the street with a car that ran out of batteries and ended up having to patrol a train station in the Mexican capital, instead of having a position in the sheriff's office or inspection.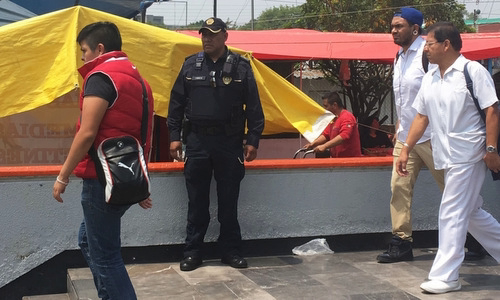 For many years in his career, Mendez refused to "pay the rent", the term for the situation where the police on the street had to pay bribes to their superiors taking place in many units in Mexico. "If you don't pay rent, your career will be just like that. You will be like me. Walking patrols, no cars, completely alone and isolated," Mendez said.
Many Mexicans do not trust the police, calling them the worst forces and "in the same boat" with organized criminal gangs. However, many low-ranking officers such as Mendez not only had to "submit" to their superiors, but also faced a shortage of equipment and facilities. Some people do not even have a patrol car or have no professional training.
Five retired officers or incumbents admit that in the Mexican police force, those who regularly "pay" will be protected by their superiors, have a bright future or are simply given better equipment. . Many also revealed that this "filing" mechanism also extends to both personnel and appointment.
According to Mendez, to get a promotion, the cost is 20,000-100,000 pesos (about 1,000-5,000 USD) depending on the desired position. He is also a spokesman for the National Security and Justice Movement (NMSJ), a civil society organization with about 2,500 members of the police currently in office and retired.
However, the Mexican City Department of Security said it did not receive any notice that subordinate officers had to pay their superiors to be promoted, saying that these cases if exist very rare and "will be severely punished" within the agency.
Last year, the NGO, Causa En Comun, surveyed nearly 5,000 federal and state police officers about their working conditions. Some people have revealed that their superior is "hapless" about $ 1,000 if they want to be promoted or not assigned to dangerous areas, Marcela Figueroa, Causa En Comun's investigator, said.
According to NMSJ and Causa En Comun, not only police officers have to pay, but people are also caught up in this "payment system". Mexicans often use the term "mordidas" to refer to the "exposing" money that traffic offenders must give to the police to bypass their fault, if they do not want to pay a fine at the tax office, capital is much higher than mordidas.
According to Causa En Comun, the "exposing" money is spent by the police to "pay the rent" to their superiors and deduct a portion for themselves, because the salary they receive is too little, even with spending. Mexican standards.
About 45% of police officers surveyed said they were paid less than $ 600 a month. Meanwhile, about 89% said they have never received a bonus or a raise when completing a task. This is the general situation with state and federal police, and ward police are even lower.
This leaves low-level officers vulnerable to the bribery of many Mexican criminal organizations. "You get paid just $ 200 / month, while the gang offers $ 1,000 / month, of course you will choose the more generous pay," Figueroa said.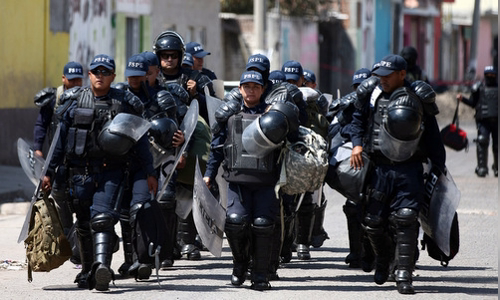 At the end of September 2014, a police group involved in the Guerreros Unidos gang blocked a convoy carrying 43 students in the city of Iguala. The 22 police later admitted killing and incinerating more than 40 students and then throwing ashes into the river. This is a case that shocked Mexican public opinion, also one of the worst massacres in the war against drug gangs since 2006.
In Allende, a small town in the northern Mexican state of Coahuila, reports of human rights activists show that the Zetas criminal alliance has silenced the entire police force for only $ 5,000 to cover up a massacre. caused by them in 2011, killing nearly 200 people. Many police units have also been arrested or dissolved because of widespread corruption in some areas.
This has led to distrust of people with the police. About 68% of respondents in a National Institute of Statistics and Geography survey conducted in 2017 said they considered the police a corrupt force, while 48% said that city police were not worth it. trust.
Many police said they could not improve the situation because of a lack of basic equipment and professional training. An unnamed officer in Cuautitlan Izcalli, one of the most violent areas in the country, said local police did not have enough weapons to patrol.
"Just look at the way we patrol know. Without enough radios in the car, the only method to alert teammates and headquarters about the crime signs is to call on a personal cell phone," the officer said.
Another unnamed officer in Tijuana, a border city with more than 900 murders this year, said many had to buy smuggled bullets from across the border to equip themselves.
"Some colleagues have families who live in the United States and they buy ammunition, secretly bring them back to Mexico and let us know through the chat group Whatsapp. If they spend $ 20 per box of ammunition, they will be sold to us for $ 40. It's a profit to bring the goods home, "the person revealed.
Tijuana officials did not comment on the information.
Not only lacking weapons and ammunition, police forces also lack the essential equipment for the job. Francisco Esquivel Romero, a former police officer in Cuautitlan Izcalli, used to turn the phone to start a police pickup every day because the batteries were out of battery.
"My supervisor always told me to endure or withdraw your wallet to buy a new battery. If a tire goes flat, you have to pay for the patch, we have to change the car oil ourselves. When there's not enough gas, we must also be self-sufficient, "Romero shared. In the end, he suffered a spinal injury due to repeatedly starting a car and being out of the industry on unsatisfactory health.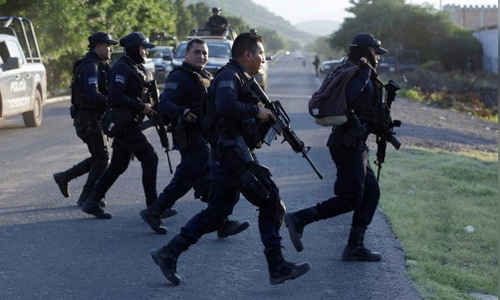 The Cuautitlan Izcalli government said the police department "had the necessary equipment to meet the duty requirements of the 688 local officers". They also added that the police had enough radios, ammunition and the police "didn't pay for the car repair bill."
However, the comments of the officers at Cuautitlan Izcalli and Tijuana are consistent with what Causa en Comun investigated. The organization realized that Mexican police forces were facing serious problems in equipment and professional training.
About 25% of nearly 5,000 state and federal officers said they had to pay to repair police cars, 41% had to buy their own shoes and 38% bought their own uniforms.
Causa en Comun believes that city-level police, who were not included in the survey, work in lesser conditions. The organization also found that police in 13 of 32 Mexican states did not receive the full benefits.
Mexican police cannot form unions, so they have little support at the grassroots level. Mexican presidents have repeatedly talked about improving the conditions and standards of police work, but promises rarely turn into action.
Mexican President Enrique Pena Nieto and his predecessor Felipe Calderon Hinojosa both implemented plans to establish a single police force in each state, meaning the removal of more than 1,000 members of the city-level police are considered less specialized. industry and corruption. This plan is called Mando Unico (a headquarters) and has been shelved by the Mexican parliament many times.
Without the political determination behind the rhetoric from Mexican leaders about reforming police forces, the two previous administrations had to rely on the military to control gang violence, Figueroa said. "Building a professional police force takes a lot of money, time and effort. Requiring the military to handle the situation is a much easier option," she added.
President Andres Manuel Lopez Obrador has announced he will deploy a training plan so police can replace the army's position on the street, while increasing the basic salary for officers. However, Obrador's plans do not seem to have helped the Mexican police force.
Mexican police recently suffered heavy losses from gang crime. Jalisco New Generation (CJNG) drug cartels used many armored SUVs, 12.7 mm heavy machine guns, rifles and other automatic weapons to ambush the convoy. 17 police patrol near El Aguaje, north of Aguililla, Michoacan state. Mexican police completely lost to the weapons of the criminal group, causing 13 officers killed, 4 seriously injured.
On October 17, police tried to arrest Ovidio Guzmán López, the son of drug lord El Chapo, a former leader of the Sinaloa gang in Culiacán, northwestern Mexico. However, masked gunmen then used machine guns and machine guns to attack heavily, forcing the police to retreat without capturing Ovidio.
Mendez said he would continue to fight for a professional police force, not corrupt and weak in capacity. If not for his generation, those efforts will be for his three children because they all want to become police.