Live witness testimony doesn't seem to help Democrats prove Trump deserves impeachment.
Americans on November 13 were watched the first public hearing in the impeachment investigation of President Donald Trump on television. Two witnesses, former US ambassador to Ukraine Bill Taylor and Deputy Assistant Secretary of State George Kent, have revealed some new details regarding the alleged Trump urging Ukraine President Volodymyr Zelensky to investigate former Vice President Joe Biden. , Trump's rival in the race to the White House in 2020.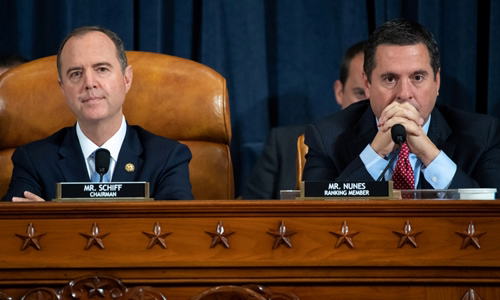 However, according to LA Times commentator Scott Jennings, nothing in this hearing could change the public's view of Trump's impeachment investigation. Cooks who have been willing to impeach Trump since his election as President remain the same, while supporters of the White House will not change their views. In other words, this was a failure day for the Democratic party.
The burden of finding evidence rests on the roles of House Speaker Nancy Pelosi and House Intelligence Committee Chairman Adam Schiff. They need to lead hearings in a way that can turn public opinion and spark a wave of protest that is so strong that it opens the possibility of the Senate condemning the President.
To do this, Democrats need to provide Republican senators with convincing evidence to change their views on Trump's behavior in foreign policy with Ukraine. The current allegations may upset many Republican members, but not to the extent that they require Trump to leave office, commentator Jennings said.
During the hearing, Taylor recounted what his aide heard about the conversation between Trump and US ambassador to the EU Gordon Sondland, while Kent provided testimony and opinions based on conversations with officials. other. That means they have no direct contact with Trump's conversations, nor a direct exchange with the President.
"What I can do here today is tell what I heard from others," Taylor told parliament. According to Jennings, this kind of indirect evidence is hard to convince the American people that Trump's actions made him deserve to be deposed. Taylor also said that he was not on any side of this debate, but Jennings said Democrats clearly hoped the Americans would consider the former ambassador to be a helpful witness to the impeachment investigation.
One of Trump's most powerful defense against the allegations was that President Zelensky said he did not feel pressured during a phone call with his U.S. counterpart on July 25. Answering questions from Republican Senator John Ratcliffe during the hearing, Taylor also said he "had no reason to doubt" Zelensky's statement.
Ratcliffe also "scored" for Trump by asking both witnesses whether they ever reported any mistakes in the Trump-Zelensky conversation. No one answered "yes", causing the Democratic faction to falter.
Congressman Elise Stefanik, another member of the Republican party who participated in the hearing on November 13, also defended the president by mentioning foreign policy between the United States and Ukraine. She quoted Kent as saying that corruption is part of a high-level dialogue between US and Ukrainian leaders, regardless of who holds the presidency, to prove Trump's actions are normal.
Trump doubted Biden used his power in office to help Ukrainian energy company Burisma, where his son Hunter had worked, was not investigated for corruption. Therefore, the President wants his Ukrainian counterpart to consider this issue, according to a transcript of a telephone conversation published on July 25 by the US Department of Justice.
Stefanik argues that Burisma is famous for its corruption problem, so Trump wants to investigate this company and the role of Biden's father and son is right. She also noted that Washington in 2014 had pledged to try to return Kiev to tens of billions of dollars in corrupt assets believed to be from Mykola Zlochevsky, the founder of Burisma. Washington's Zlochevsky investigation request was also made under the administration of former President Barack Obama.
Trump was accused of using nearly $ 400 million in military aid to pressure Zelensky to launch an investigation into Biden's father and son, although the US president explained that he postponed aid because he wanted other European countries to contribute. for Ukraine.
However, commentator Jennings said Trump was finally providing aid, something the Obama administration did not make as a move against Russia. Taylor and Kent also acknowledge this decision better than the previous administration.
For many Trump supporters, the impeachment investigation is only a partisan Democratic effort to overthrow people they could not defeat in 2016. Joe D'Ambrosio, a barber 76 aged in Bethlehem, Pennsylvania, said his views would not be affected by such hearings.
"I fully support the President. A lot of people are satisfied with their retirement policies and jobs. But Democrats don't want to talk about that. I think they will pay," D'Ambrosio said. .