Trump initially decided to withdraw all troops from Syria, but later changed his mind when convinced about oil, US officials said.
The Pentagon yesterday announced it would deploy more forces to eastern Syria to coordinate with the Syrian Democratic Forces (SDF) led by the Kurds to prevent oil fields from falling into the hands of Islamic State militants. spear (IS) self-proclaimed.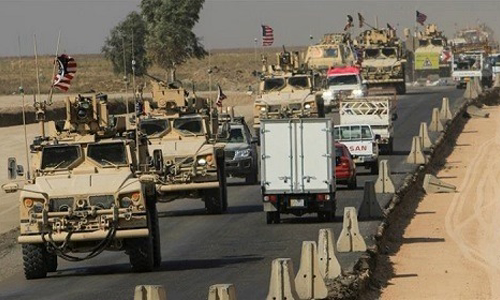 "The United States is committed to strengthening its position, working with our SDF allies in northeastern Syria, with increased military equipment to prevent oil fields from falling into the hands of IS or destabilizing agents. ", Department of Defense added.
The announcement came a day after US President Donald Trump wrote on Twitter that "the US will never let IS capture those oil fields." U.S. officials, speaking on condition of anonymity, said Trump decided to leave a few hundred soldiers in Syria after being persuaded by advisers that a complete troop withdrawal could cause the United States to lose control of oil fields in eastern Syria.
Trump's advisers initially sought to get him to change his mind by arguing that the decision to withdraw all American troops would benefit Washington's opponents and harm Kurdish allies and civilians. However, this view was rejected by the White House boss.
Officials later realized that Trump's interest in oil could open up the opportunity for the Pentagon to change his mind. "This is like giving a child medicine by mixing it into yogurt or apple sauce," an unnamed US official said.
The Pentagon's announcement of leaving a few hundred soldiers in eastern Syria contradicts Trump's decision in early October to withdraw all troops from northeastern Syria, an action that was said to "pave the way" for the war. Military service of Turkey in the region.
Joshua Landis, a Middle East expert at the University of Oklahoma, said the recent developments in the White House were "indicative of the chaos in the US foreign policy making process". "It is in a 'free fall' situation, and the President is constantly changing his mind," Landis said.
The Pentagon's decision to send more troops to Syria could mean that the US military will "freeze" in one area, while the border area is guarded by Russian and Syrian troops, he added.
"Who will protect these American soldiers? The Kurds will not need America. Now they have an agreement with the Assad government. This is all for nothing."