Trump said Colonel Crozier did something "horrible" when writing a letter demanding the evacuation of USS Theodore Roosevelt aircraft carrier to avoid Covid-19.
"I think what Crozier did was terrible. Write a letter? This is not a language class," US President Donald Trump said at a press conference at the White House on April 4, expressing "agree. 100 % "with the decision to dismiss the captain of the aircraft carrier USS Theodore Roosevelt by Colonel Brett E. Crozier.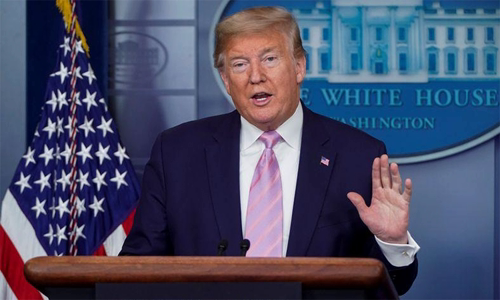 "This is the captain of a huge nuclear-powered ship and he should not present it in the mail like that. He should call to ask or ask," Trump added, when asked about the decision. Demoted Crozier of the Pentagon.
Acting Navy Secretary Thomas Modly announced on April 3 that he decided to dismiss Crozier on the grounds that he had sent too many people a memorandum describing the situation of nCoV-infected sailors aboard. Crozier called for the evacuation of 4,000 sailors to prevent the virus from spreading after many people on board were infected.
Some US Navy officials claim that Crozier's letter caused panic for sailors aboard Theodore Roosevelt. Jeff Schogol, a commentator at Task & Purpose, said that the hundreds of sailors gathered to bid farewell when Crozier left the ship to show that he did not cause panic, instead they cherished the former flagship's sacrifice. Chief to save subordinates' lives.
The video posted on social media shows the carrier crew member Theodore Roosevelt clapping and shouting Colonel Crozier's name to see him off after being dismissed. One sailor said it was "the way to see off the greatest captain in life, a man devoted to his troops".
Observers said the US Navy's decision to resign "speedy" may be due to Crozier exposing the fact that the force could not protect his crew and embarrass the leadership.
The first three cases of nCoV were recorded on the carrier Theodore Roosevelt on March 25, but it was difficult to identify the source of the infection due to C-2 Greyhound aircraft from the US base in South Korea and Japan. ship.
The US Navy suspended the mission of the aircraft carrier Theodore Roosevelt on March 26 and ordered the battleship to dock in Guam to test the crew. The US Navy yesterday said 155 sailors on board were positive for nCoV.