Turkey shelling an area around the outpost near the town of Kobani to force US special forces away from the northern border of Syria, the US officer said.
An American officer stationed in northeastern Syria said multiple 155-mm artillery shells on October 11 were fired from Turkey across the border. The bullets that fell around the American outpost near the town of Kobani were fired in a surveillance fashion to adjust the target.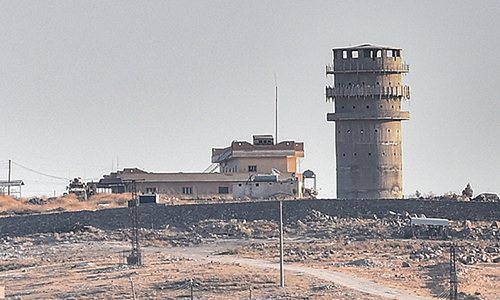 "That's not what we used to do with partner forces. Turkey knew there were American soldiers on the hill, we had been there for months because it was the best observation spot in the entire region. "They did it on purpose," the US officer said.
The bombardment of the Turkish army on 11/10 only stopped when the US warned that the bullets fell too close to the position of the force of this country. The soldiers withdrew from the outpost after the shelling and returned on November 12, a US official said.
"US forces were bombarded but no one was injured. There was an explosion. The United States asked Turkey to avoid actions that could lead to immediate defense measures," the Pentagon spokesman said. Corner Brook DeWalt said.
The Turkish Ministry of Defense issued an announcement on 11 October saying that its forces did not shelling the position of the US military, but only defending themselves after one of the country's border posts was attacked. However, some US officials say the situation is much more serious.
"This is not a mistake. Turkey wants the US to recede 30 km from the border. Based on the information available, this is a warning shelling on a location known to Turkey that has US forces, not the aimless bombardment, "the former special envoy for the anti-IS campaign Brett McGurk said.
A US defense official said the Pentagon had informed Turkey the location of US forces. "Turkey has certainly come closer to what we want. Whether it was accidental or intentional, this certainly brings more trouble," the official said.
Turkey launched a military operation in northeastern Syria on 9 October to target the position of the Syrian Democratic Forces (SDF) with the core of the Kurdish People's Protection Units (YPG), which were The country is considered a terrorist. YPG was a close ally of the US in the fight against the self-proclaimed Islamic State (IS) militants.
The White House has said it will withdraw its troops and will not interfere in Turkey's campaign after President Donald Trump said he wanted to "take America out of unreasonable prolonged wars". However, after receiving criticism for "abandoning" the Kurdish ally, Trump changed his attitude, threatening to "destroy" the Turkish economy if they "overreached" in Syria.
Trump later promised not to abandon the Kurdish ally in Syria and hope the US could become a mediator between Turkey and the Kurdish forces.