President Erdogan has vowed to restart a military operation in northeastern Syria on October 22 if Kurdish forces do not retreat.
"If they keep their promise until the evening of October 22, the safety zone issue will be solved. If not, the military operation will start in 120 hours," Turkish President Recep Tayyip Erdogan said. at a press conference in Istanbul on October 18.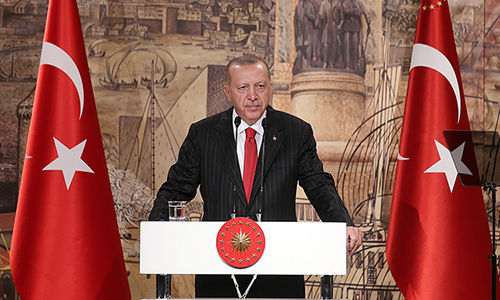 Turkey suspended a military operation called Peace Spring on October 17 for Kurdish forces to withdraw from the established security buffer and declared it was not a ceasefire. The decision to suspend military operations came after Erdogan discussed with US Vice President Mike Pence about a military operation in northeastern Syria.
"It is no problem that Syrian government forces, with Russia's support, enter Kurdish militia areas. We have no intention of staying in Syrian-controlled areas." north of this country, "President Erdogan said.
Today's gun battles still rage in the town of Ras al-Ain, where pro-Turkish rebel groups clash with Kurdish militias. Turkey has been accused of bombing and shelling Kurdish positions, killing at least 5 civilians.
Turkey's military operation in northeastern Syria began on October 9 to repel the Kurds into Syrian territory. Erdogan said he informed US President Donald Trump three days before the campaign began.
Explaining his decision not to intervene in the military operation, Trump said he let Turkey and the Kurds clash in Syria because "both sides were like two children fighting." Trump welcomed Turkey's decision to suspend its military operation and praised Erdogan "as a good leader and did the right thing".