Two Turkish soldiers were killed after a Kurdish rocket and mortar attack in the city of Ras al-Ain on October 27.
Turkey's Ministry of Defense today confirmed the attack by Kurdish militants that killed one of its soldiers at the scene, five wounded soldiers were taken to hospital, but one of them did not survive. .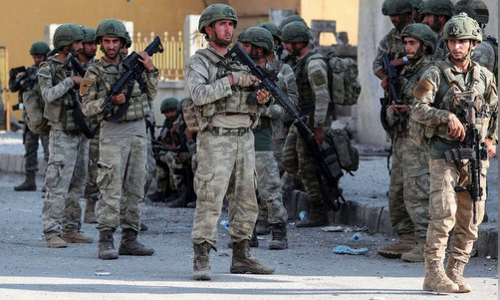 The Kurdish raid happened when Turkish troops conducted scouts around the city of Ras al-Ain, in northern Syria. "We responded appropriately," the Turkish Ministry of Defense said.
These are the first Turkish soldiers to die after Russian President Vladimir Putin and his counterpart Tayyip Erdogan on October 22 reached an agreement to end fighting between Turkey and Kurdish militia in northeastern Syria. .
Under the agreement, the Russian military police and the Syrian border will replace Kurdish militia in a buffer zone of 440 km long and 30 km wide along the Syrian-Turkey border. Russian and Turkish forces will then patrol the 10-km-wide area in the safety buffer zone Ankara wants to establish in northeastern Syria.
The Turkish army launched the "Spring of Peace" campaign against Kurdish militia in northeastern Syria on October 9. Fighting between the two sides killed two Turkish soldiers on October 20, before the Russian-Turkish agreement took effect.