Typhoon Saudel landed on San Ildefonso peninsula, Aurora province, Philippines, at 9 pm tonight, bringing heavy rain and strong winds.
The Philippine Bureau of Meteorology, Geography and Astronomy (PAGASA) announced on its social media account that Typhoon Saudel landed at nearly 10 p.m. and is scheduled to make a further announcement at 23:00.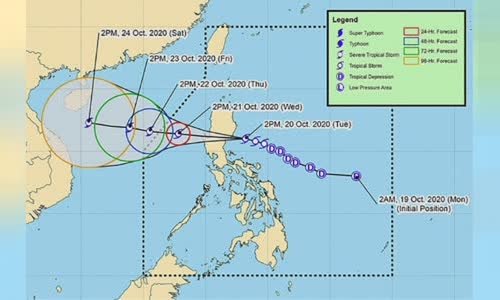 Before entering the Philippines, the storm had winds of 75 km / h, jerked up to 90 km / h.
The expected path of Typhoon Saudel.
Today's moderate early rains have caused a number of minor landslides, clogging several roads in the Philippines.
PAGASA warns that floods, flash floods and landslides are at risk during heavy or prolonged rain, especially in potentially high risk or vulnerable areas.
This is the 16th storm to hit the Philippines this year.
The Center for Meteorological and Hydrological Forecasts of Vietnam said that tonight and tomorrow, Typhoon Saudel will follow the Northwest direction, travel 20-25 km every hour, enter the East Sea and become the 8th storm in the rainy season.
It is very likely that the storm directly affected the Central region on October 24, causing rain in provinces from the south of the North Delta to the North and Central Central.