Washington police prepare response measures when a series of Trump support groups are scheduled to protest big on the day of Congress confirming the election results.
"Major protests in Washington will take place at 11:00 am Wednesday, January 6. Details of the venue will be updated," President Donald Trump announced on Twitter on New Year's Day 1 January 2021.
Following Trump's call, loyal supporters are expected to flock to the capital on Jan. 6 to pressure Republican MPs to join the attempt to "overturn" the election.
However, Trump and his allies are planning to have Republican congressmen file petitions against electoral votes in battlefield states accused of "electoral fraud."
After many fights and clashes since Biden's election, federal law enforcement and Washington are working hard to prepare to respond to what could be the most tense rally in Trump's favor.
Trump pro-Trump groups are working hard to call for protests online.
"Stay there, it will be very hot," says one flyer.
The event was co-signed by newly elected parliamentarians Lauren Boebert and Marjorie Taylor Greene.
The National Parks Agency has received three different applications to hold protests to protest the counting of electoral college votes.
Another group called "The 80% Alliance" also asked permission for 10,000 protesters in the area and named its event "Protests to save America".
A smaller protest called "The Silent Crowd" organized by conservative South Carolina activist James Epley is also expected to bring hundreds of marchers from the National Park to parliament building.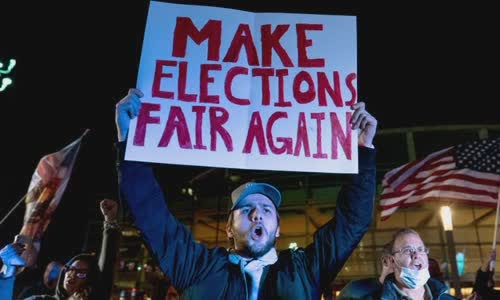 On social media, members of the group "Proud Boys" are also discussing how to hold protests in Washington.
"The Proud Boys will appear in record numbers on January 6 but this time there is a change," said group leader Enrique Tarrio.
Tarrio also stated that the party can wear black at night, similar to the tactic used by the Antifa group, which often clashes with the Proud Boys.
The US Park Police confirmed the applications were approved but not licensed and did not specify the specific security measures to be taken.
Many restaurants and office buildings in central Washington are strengthening to avoid damage, such as the summer rallies and, more recently, protests against the election results.
President Trump shortened his year-end vacation in Florida and returned to the White House on December 31, 2020.
Some Republican members have condemned Trump's electoral "overturn" calls, warning that he is "playing with fire" and that his most fervent supporters could cause violence to explode.
In an editorial, the Wall Street Journal, which often backs the Trump administration, argues that Republicans need to think about what will happen if Congress somehow refuses to confirm Biden has enough electoral votes.
"At least street riot will happen," the editorial warned.