Malaysia to open the ability to completely blockade the richest Selangor state in this country, in the context of infection and death by Covid-19 consecutive a record.
The world recorded 164,744,531 cases of NCOV and 3,412,202 deaths, up 589,805 and 12,965, while 144,801,816 people recovered, according to real-time Worldometers statistics.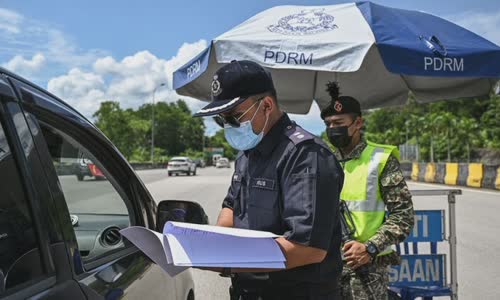 Malaysia yesterday recorded 4,865 new cases, bringing the total number of cases in this country to 479,421, of which 1,994 people died, increased 47 cases compared to a day ago.
The Malaysian Ministry of Health yesterday announced it could propose complete blockade of the richest Selangor state in this country if the current limited measures did not control the momentum of NCOV infection.
Police control latch in Selangor state of Malaysia on May 10.
The Malaysian government earlier the month applied the travel control order (MCO), which banned people moving between states and counties under the state unless there was a police license, as well as restricting concentrated activities
"If MCO cannot prevent the momentum of infection, consider applying more comprehensive MCO. Business activities can still take place, but it is likely to stop completely in Selangor state if the situation is bad," Minister
Selangor is the richest and most populous, contributing the most to Malaysia's GDP as an industrial and transportation center.
The Malaysian government was also criticized because the Vaccine Covid-19 vaccination program was delayed.
Malaysian experts also warned two domestic NCOV strains with super-infectious capabilities that could stand after a new outbreak, while the officials focused on the Indian strain.
America, the world's largest translation area, reported 33,772,391 cases and 601,279 deaths caused by NCOV, an increase of 24,952 cases and 681 deaths compared to the previous day.
US President Joe Biden yesterday announced it would donate 80 million doses of Vaccine Covid-19 to the countries in the next 6 weeks through the Covax program, 5 times other countries.
80 million doses of Vaccine Covid-19 include 20 million doses of Moderna, Pfizer and Johnson & Johnson, three types of licensed use in the US, along with 60 million doses of Astrazeneca that Washington announced shares with previous countries.
Biden also said 60% of US adults were injected at least one dose of Vaccine Covid-19, adding that this was the first time the number of cases decreased in all 50 states since the pandemic outbreaks.
India is the world's second largest translation area with 25,495,144 cases and 283,276 deaths, rising from the day before 267,174 and 4,525 cases.
The Indian Health Authority considers 498 cases of serious side effects after Astrazeneca vaccination, of which 26 cases of suspicion are closed.
The Ministry of Health India said that the rate of coagulation is very small and is in an expected, and is not ominous compared to the great benefit that the vaccine brings in the fight against Covid-19.
Taiwan reports 245 new NCOV infections, bringing the total number of infected cases to 2,260, of which 14 people died, increased two cases compared to the previous.
Taiwan is mobilizing diplomatic officials to show all sources of Covid-19 vaccines available to the island.
Taiwan used to be an anti-Covid-19 model of the world, but recorded more than 700 cases of NCOV community in just a week, causing the Taipei government to apply limited measures.
In Southeast Asia, Indonesia is the largest regional translation area with 1,748,230 cases, up 4,185, of which 48,477 people died, increased 172.
Thailand reported another 2,473 cases of NCOV in the past 24 hours, bringing the total number of nationwide cases to 113,555.
Outside the outbreaks in prisons, most recent cases are in Bangkok, where the virus has spread in the group of construction workers and densely populated areas of the capital.
The country has injected more than 2.2 million doses of Covid-19 Vaccine of Sinovac Biotech and Astrazeneca for top-level employees and high-risk groups.