The woman who was walking through the counter at a supermarket in the outskirts of Sydney, discovered a three-meter python on the shelf.
I was trying to find spices for the evening chicken so I didn't notice that it curled behind the small spice jars.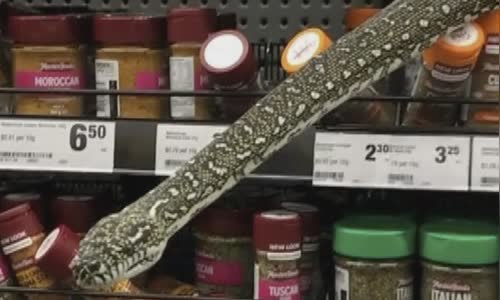 Alati, a snake-catching expert, said the beginning of the python was only about 20 cm away from her.
Photo taken with python scenes in Woolworths supermarket, Suburbs Sydney on August 16.
The Woolworths supermarket series also voiced a confirmation of python appearing at the 16/8-morning stall at the supermarket in Glenorie, Suburbs Sydney.
Alati said she used the phone to return to the python image before pressing the supermarket staff.
She went to get a snake-catching bag at home, near the Woolworths supermarket, then returned to catch pythons and dropped it to the nearby tree forest.
This is a modal window.
Beginning of Dialog Window.
End of Dialog Window.
Alati, who was trained to catch solids with poisoning as a volunteer for a Sydney's wildlife rescue organization a few years ago, said this was a male python looking for a partner.
I looked and knew right now that there was no venom and did not attack, so it wouldn't be harmful to anyone, Alati said.