The Norwegian Baltic Pipe pipeline to Poland through Denmark is inaugurated, in order to enhance regional energy security.
We have to do everything we can to eliminate the possibility of Russia using energy as a power tool.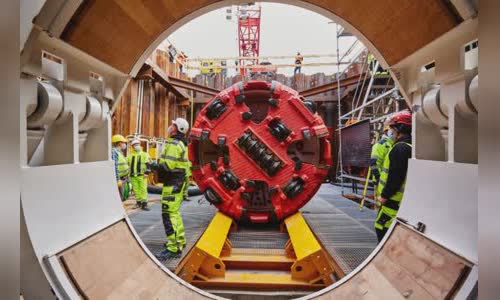 Polish President Andrzej Duda said that Baltic Pipe was the Polish dream for decades, while Prime Minister Mateusz Morawiecki said the ruling era of Russian gas was ending.
The Baltic Pipe pipeline is built with Norwegian gas to Poland.
The Baltic Pipe is a project established with the cooperation between the operator of the Denmark's power transmission system and the Energinet gas and the Polish Gaz-System Company.
This pipe starts from the middle of the Europipe II pipeline that leads Norwegian gas to Germany, passing through the territory of Denmark to Poland.
Polish gas group PGNIG said the Baltic Pipe will transport 6.5 billion m3 of gas in 2023 and 7.7 billion m3 in 2024. The system is expected to go into operation from October 1.
Baltic pipe pipeline diagram (blue) and Europipe II pipeline.
Poland signed an agreement with Norway's Equinor Energy Group earlier this month, imported 2.4 billion m3 of gas/year, equivalent to about 15% of Warsaw's total consumption, from 2023 to 2033.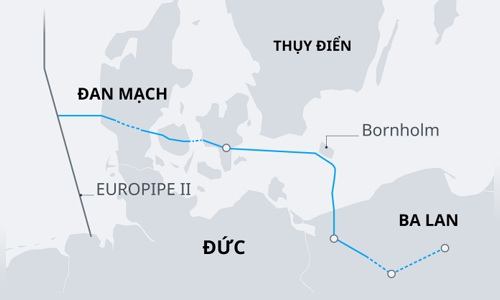 The Baltic Pipe project has been planned for many years, but continuously delayed due to environmental problems.
This is also part of Poland's Russian gas dependence for many years.
Poland is said to be ambitious to become a European gas center, when installing the third tank at the largest Kaczynski gas warehouse in the country.
Meanwhile, Norway overcame Russia to become the largest gas supplier for the EU, in the context of the Nord Stream pipeline paralyzed and continuously encountered a leak, suspected sabotage.
This move raises concerns about a difficult winter for Europe, especially England, Germany and the Netherlands, three countries depend heavily on the cheap energy of Norway.
The Norwegian Oil and Gas will not force energy companies to sell gas to Europe with discount prices, because this is against the market rules.
With the largest LNG warehouse at Swinoujscie port, Poland aims to become a European gas center, helping the area to reduce Russian energy dependence.