Phnom Penh officials declared to re-block if people, especially young people, neglecting against epidemic, though the city completed vaccination.
I want to fiercely calling everyone that efforts to cut off the community infection depend heavily on the observance of medical measures.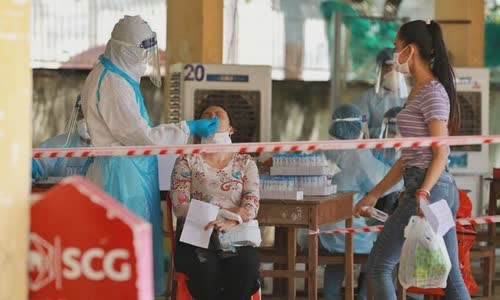 Mr. Mov Kang warned Covid-19 cases of entry and transformations Delta is increasing daily cases in Cambodia.
Health workers sampled Covid-19 for people in Phnom Penh, Cambodia.
The official of Cambodia Ministry of Health affirmed that the country has touched the Red Point of Covid-19 and Phnom Penh, which may be subject to blockade again if people do not comply with the guidance of the health authority.
The Ministry of Health affirmed Cambodia to overcome the red line of the risk of spreading Covid-19.
Vice Mayor Phnom Penh Keut Che Meanwhile also warns the sneaky business owners to open karaoke bars to violate anti-epidemic measures and will be included in the blacklist.
Or Vandine, a leader of the Cambodian Ministry of Health, previously expressed concerns that the country could cross the Red Point of Covid-19, added that the risk of large-scale outbreaks in the community was right in front of the eyes
The Cambodian official for the first time warned that the country touched the Red Point of Covid-19 from June 30, when recording a record of 1,130 new infections in 24 hours.
The infection continued to increase even though the capital Phnom Penh completed the Covid-19 vaccination campaign and began to expand the program to the provinces.
Official data shows that more than 2.4 million people in Phnom Penh have been injected for the second dose to 4/7.
Cambodia currently records nearly 62,000 cases and more than 900 deaths due to NCOV.