The Korean government decided to build two giant Chinese cabbage storage facilities, in order to deal with the current Kimchi crisis.
Each facility has an area of 9,900 m2, built in suburban areas of Goesan and Haenam.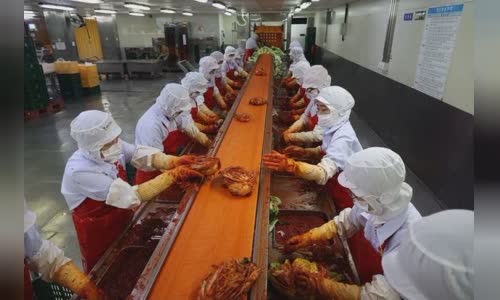 Koreans are facing the price of kimchi soaring after the extreme heat and floods devastated most of the cabbage fields nationwide.
The shortage of supply and escalating cabbage prices causes many difficulties for local manufacturers, even more serious when the cheap Chinese Kimchi enters the market.
According to data from the Korean Food and Agriculture and Fisheries Group (AT), the price of Chinese cabbage has doubled this year and increased by more than 41% in the past month, reaching 3,300 won (2.3 USD.
White radish prices, raw materials for another popular kimchi, also up 146% over the same period last year, to nearly 2,800 won/kg, according to AT.
Staff working at Cheongone Organic Kimchi factory in Cheongju, Korea, September 26.
Previously every June we will buy cabbage storage, to use when the price of reform increases, Ahn IK-Jin, CEO of producer Cheongone Organic, said.
We used to produce 15 tons of kimchi a day, now only less than 10 tons, he added, saying that the company must increase the price of kimchi to a half, at 5,000 won (3.5 USD)/kg
The kimchi industry of Korea slipped for a long time, while kimchi imported from China, costing about 1/3 of kimchi produced in the country, has increased sharply in the past 20 years, accounting for
Last year, nearly half of the 1,000 Korean manufacturers Kimchi were permanently closed or temporarily, or switched to other products, according to research by the Korea Rating & Data data analysis company.
Kimchi companies hope the plan to build two new government warehouses will at least prevent domestic manufacturers from losing their positions.
Lim Jeung-Guen, Deputy Director of the Ministry of Agriculture's Food Industry Promotion Department, said the Korean Government could build more areas if the first project was highly effective.
Hot sun, rain and floods seriously damage the Chinese cabbage season in Korea, making Kim Chi in this country scarce and expensive.
Fried chicken - popular dishes in Korea - now makes people in this country hesitate because the price has increased sharply recently.