America jeans from the 1880s were auctioned more than $ 87,000 in a small town in New Mexico.
The jeans from the 19th century were discovered in an abandoned mine and was Kyle Hautent and Zip Stevenson, who was knowledgeable about the classic denim market, bought in the auction at Durango Vintage Festivus, suburb of small town.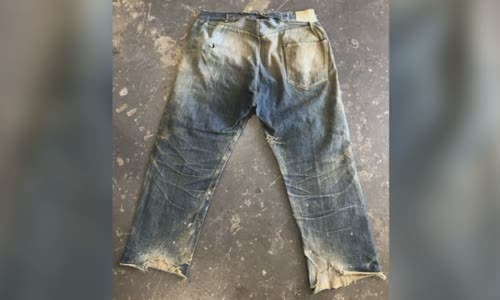 We have no plans to buy jeans together until the auction starts.
The jeans are sold for $ 87,400, of which 15% of insurance premiums for buyers.
Jeans from the 19th century were auctioned more than $ 87,000 in New Mexico, USA.
Stevenson, who managed a denim repair shop in Los Angeles for nearly three decades, said he had never seen any pants like that.
These jeans are extremely rare, especially when it has this good size and condition, Stevenson said, adding that there are only a few similar jeans like this, but they are kept at the museum.
According to Stevenson, the jeans from the 19th century have amazing durability and can be worn.
Brit Eaton, who organized a auction of jeans, called the search for such items to be addicted.
The pants are now kept in a safe near Stevenson's Denim Doctors store in Los Angeles and people can come to see the appointment.
Many Chinese raced to fall in the price of a normal porcelain vase in the auction in France, with the winner of nearly 8 million euros.
The black -and -white picture of Man Ray's naked woman was paid by the buyer for $ 12.4 million in Christie's auction.