Proposing Turkey to turn into an EU gas center, Moscow seemed to want to attract Ankara towards him, deep dividing in Europe.
Russian President Vladimir Putin on October 13 reiterated his proposal of turning Turkey into a gas center for Europe, after the gas flow to the area through the Nord Stream pipeline in the Baltic Sea stopped activating activity.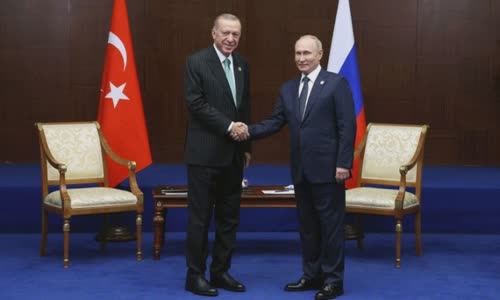 The Kremlin boss came up with the idea of exporting more gases through the Turk Stream pipeline running under the Black Sea to Turkey when he met President Recep Tayyip Erdogan on the sidelines of the regional summit in Kazakhstan.
Russian President Putin (right) met Turkish President Erdogan in Astana, Kazakhstan, October 13.
This is the second energy proposal that President Putin made in the past week, amid the context of Moscow accused of using gas as political tools to put pressure on Europe to divide the support of the area for the area for the area for the area for the area.
The Russian leader first spoke out to propose to Turkey on October 12, saying that Russia could increase the volume of gas exports to Turkey through pipes in the Black Sea.
We can build the main pipeline supplying gas to Europe through Turkey, creating the largest gas center for Europe here, of course, as our partners are interested.
When meeting Mr. Erdogan yesterday, the Russian President explained that such a gas center will contribute to adjusting the price of this item.
Europe is facing the risk of an energy crisis when winter is about to come.
The European Union (EU) has proposed to apply Russian gas ceiling price, as a way to curb Moscow's revenue, while controlling regional energy prices.
Germany had previously refused Putin's proposal to promote gas flow to Europe through a branch of the Nord Stream 2 pipe that was not yet put into operation.
This is another effort of Russia to use gas as a strategic geographical tool to weaken EU and NATO countries, Simone Tagliapietra, energy policy expert at Bruegel Research Institute in Brussels, Belgium, receive
According to him, Russia is seeking to attract Turkey, a NATO member, by the prospect of becoming an energy center, while trying to create a new division among European countries.
President Putin's proposals are still vague, but the Kremlin boss is trying to revive a version of the South Stream project, the gas pipeline through the Black Sea to the southern Europe.
Mehmet Ogutcu, President of London Energy Club, said that the proposal to set up a gas center in Turkey shows that Russia is in a very difficult situation in terms of energy exports, after the moves turning back from the direction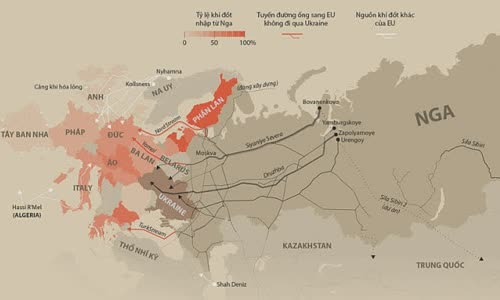 Russian gas transferred pipes for Europe.
Nord Stream 1 and 2 is stagnant and will not be able to operate for a long time, after recent leaks, Ogutcu said.
Turkey has long cherished the ambition to become a European gas center.
President Erdogan has not commented on Putin's proposal.
Technically, it is possible, Minister Donmez said.
Turkey depends heavily on Russia in terms of energy and tourism.
They still maintain close relationships with Russia and Ukraine, positioning themselves as mediators of reconciliation between the two sides conflict.
However, experts believe that Turkey will have to be very careful with the proposal from Russia.
Tagliapietra also said that President Putin's plan is unlikely to succeed.
Massimo di Odoardo, Vice President in charge of gas research from Wood Mackenzie Consulting Company, headquartered in Edinburgh, Scotland, commented existing pipes with enough capacity to increase gas flow from Russia to Europe
The idea that Europe needs more pipes to increase the capacity to receive Russian gas is really not right, he said.
Experts predict that European will have to go through many difficult winters before it can fill the void of gas supply from Russia.
Norway emerged as a hero to help Europe relieve the thirst for burning, but also suffered criticism for taking advantage of the crisis to profit.