The British Defense Ministry said that 7 Afghan people were killed in chaos near Kabul airport, where the crowd gathered to have the opportunity to leave the country.
We sincerely condolences with the family of 7 Afghan people who have killed in the crowd in Kabul, the British Defense Ministry spokesman today said he did not give details.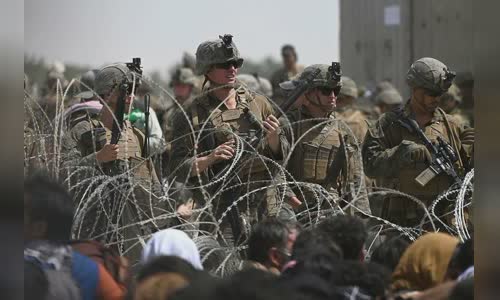 American soldiers stood up after a barbed fence when Afghan people sat by the roadside closer to the military area of the airport in Kabul on August 20.
The US and allies have struggled to handle thousands of foreign citizens and Afghanistan people trying to run away from Afghanistan since the Taliban took over power.
The conditions on the ground are still extremely challenging but we are doing every way to handle the safest and security situation as possible, spokesman speaks and said he evacuated nearly 4,000 people from Afghanistan since
Biden has set a complete withdrawal time in Afghanistan on August 31.
US President Joe Biden said that it was possible to extend the deadline with flights to bring people to leave.