Florida officials are examining email sent to Democratic voters, asking them to vote for Trump "otherwise they will be hunted."
The suspected email sent from Proud Boys, a racist far-right group, had the same content but had different recipients' names.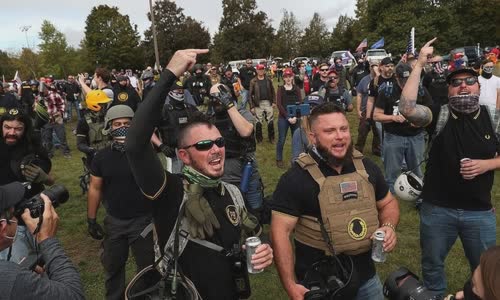 "We have all the information about you. You are registered as a Democrat and we know this because we have access to the entire voting infrastructure," the email said.
"You must vote for Trump on Election Day or we will be hunted down. Change your registration to Republicans so we know you've received this message and comply. We'll know you voted.
"I would take this seriously if it were you," the message concluded, accompanied by the voter's address.
Information publicly available on an individual's US voting record includes name, address, and registered party.
The email "looks like a scam and we will begin to investigate its origin" with the help of US Federal Bureau of Investigation (FBI) staff and the state election official.
The Miami Herald newspaper reported that the University of Florida students received these emails, all from info@officialproudboys.com.
The Proud Boys are a group that incites violence, worshiping white supremacy, according to the Southern Poverty Law Center (SPLC), which monitors the nation's hate-provoking groups.
The group came to the spotlight when US President Donald Trump refused to condemn them in their first debate with Democratic rival Joe Biden on September 29.
Enrique Tarrio, a leader of the Proud Boys and head of the group of Latin American Voters supporting Trump in Florida, said on October 21 that his group was not related to the emails.
A Republican spokesman earlier said Tarrio's group of Latin-American Voters was not affiliated with the party and denied ties with the Proud Boys.