Despite being spontaneously built from tractors and unable to confront German armor, the Soviet NI-1 tank still terrified Romanian soldiers.
A team of engineers at the January Uprising machine factory in Odessa (present-day Ukraine) came up with the idea of building a tank from tractors in August 1941.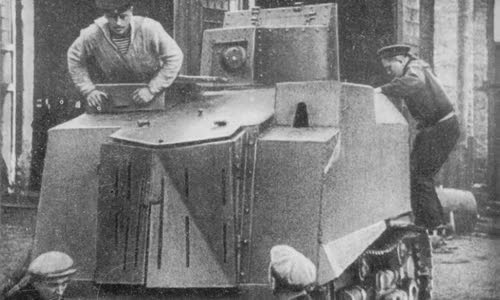 The first three tanks based on this concept were handcrafted in just a few weeks.
The original plan was to install 37 mm cannons from T-26 tanks that were so damaged that they could not be repaired, but the engineers realized that this was technically impossible.
These armored tractors can reach speeds of up to 20 km / h.
Known as the Odessa or Yanvartsy tank (in Russian means January, referring to the name of the vehicle's factory), armored tractors first entered battle on August 20, 1941, due to the
Examination of the Odessa tanks returning from this battle showed that 10-20 mm thick steel armor was quite effective against infantry bullets, except for 45 mm shells capable of penetrating it.
On the morning of September 20, 1941, 20 Odessa tanks, equipped with headlights and sirens, suddenly attacked the position of the Romanian army on the outskirts of the city.
After this attack, the Odessa tank was renamed the NI-1, short for "Na iuspug", meaning "horror".
The most successful operation of the NI-1 tanks took place less than two weeks later, on October 2, 1941 near the village of Libental, on the outskirts of Odessa.
Even so, the unique Soviet tanks failed to save Odessa from the end of its defeat.
This is a modal window.
Beginning of dialog window.
End of dialog window.
The NI-1 was not the only armored tractor built during World War II.
However, despite being equipped with a 45 mm cannon, the KhTZ-16 self-propelled gun had poor armor, limited visibility, slow speed, so it was not too useful in battles with the Germans.
In addition to the Eastern Front, spontaneously built tanks also appeared in New Zealand, to counter the threat of Japanese invasion.
However, due to hasty production, vehicles with inferior specifications and combat capabilities to other weapons, derided as "the worst tank ever created", also