According to a book published today, Melania doubted Trump's former adviser was behind the leak of her nude photos in 2016, but the White House denied it.
In her book "Free, Melania, The Unauthorized Biography", CNN correspondent Kate Bennett wrote that Melania "still did not believe" that her husband was involved in the leak, adding that the US President and the First Lady did not sleep together. room at the White House.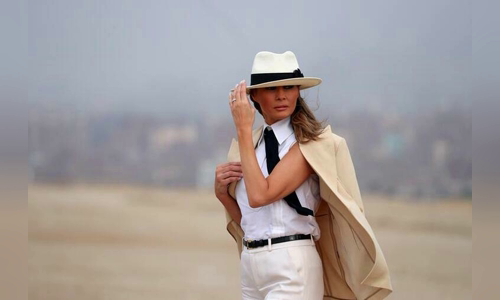 "Melania did not comment on how the nude photos fell into the hands of tabloids and appeared on the cover, but friends said she insisted that Trump did not. As for Stone, she is not sure," Bennett said. write.
Nude pictures of Melania were taken in 1996 and published a year later in a French magazine. In July 2016, three months before the US presidential election where Trump was the winner, the New York Post magazine posted these photos. At that time, Trump was involved in a dispute with the family of a soldier who died in Iraq in 2004.
Stone did not play a formal role in Trump's campaign, but Stone remained close to Trump. Stone himself was once considered a master at using his personal life to create public opinion, often seen as a means of distraction.
Betnett hypothesized in the book about leaking photos that "Trump is trying to cope with the worst week of the campaign."
In 2016, Trump said that nude photos of Melania "taken for a European magazine before he knew her", at the time of his wife "were one of the most successful models she took. lots of photos, including covers and covers for major magazines. "
"In Europe, such photos are very fashionable and popular," Trump said. A spokesman for the election campaign at the time declared "there is nothing to be ashamed of."
Stone denied Bennett's statement while the White House rejected the book, according to a Guardian notice.
In mid-November, Stephanie Grisham, White House press secretary, said Trump was surprised by Bennett's book. "Our office worked with Kate in good faith on the book and thought she would work honestly. Sadly, the book included many details and false ideas, showing that Bennett was talking. to many anonymous people who know nothing of the First Lady, "Grisham stated in a statement.
"The doubt mentioned in Kate Bennett's book is clearly and completely illogical," Nydia, Stone's wife, responded to the book, asserting that she and her husband had known Melania since the First Lady's arrest. Early dating Trump. "Nobody supports the presidential election more strongly than Stone and the leak of anything will ruin Trump's election prospects," she said.
Stone is allegedly obstructing Mueller's investigation into Russia's alleged interference in the 2016 US elections and is awaiting a verdict.
Other nude photos of Melania, taken on Trump's plane, were published in GQ magazine in 2000. Trump himself requested to send those photos to his office, GQ said in 2016.
Bennett wrote that that life made Melania "humiliated, incompetent, ashamed and scared for her young son". Bennett described Melania as "out of the mold of a former model" and mentioned that she was "kind and warm" to White House staff.