French police arrested and interrogated a man believed to be involved in the culprit of the stabbing at a church in Nice city.
The 47-year-old man was arrested on the evening of October 29 after the attack at Notre Dame Cathedral in Nice city, a source in the French judiciary said today.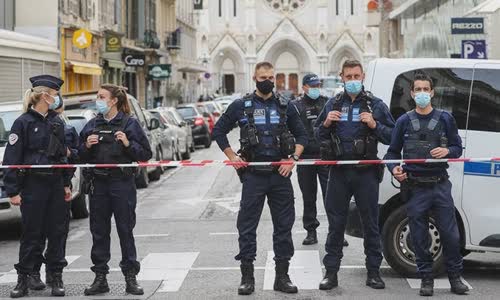 French officials said Aouissaoui left his home town Tunisia for Lampedusa, Italy, on September 20 and was on a quarantine boat for 14 days before being transferred to the mainland city of Bari on October 9.
"The victims targeted because they were the only ones present at the church at the time," prosecutor Ricard said at a news conference on Monday evening.
French President Emmanuel Macron called it a "Islamic terror attack", saying the government raised its terrorist alarm to its maximum before Catholic Saints Day, scheduled to take place Nov. 1.
The stabbing comes almost two weeks after French teacher Samuel Paty was beheaded on October 16 outside Bois d'Aulne High School, after showing students a caricature of the prophet Mohammed.
France has been on high alert for terrorist attacks since the January 2015 attack on satirical magazine Charlie Hebdo, which killed 12 people.
A wave of protests against France and President Emmanuel Macron recently spread after he angered many Muslim nations for supporting publishing of the cartoonist Mohammed, a taboo against Islam.