The world records nearly 92 million CoV cases, nearly 2 million deaths, while the average number of deaths per day from Covid-19 in the US exceeds 3,000.
The world has recorded 91,953,966 cases and 1,967,928 deaths due to Covid-19, an increase of 701,693 and 16,420 cases compared to 24 hours ago.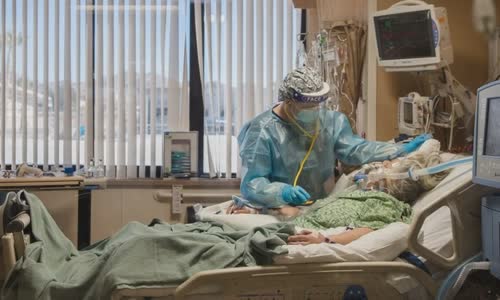 The United States, the world's largest epidemic region, recorded 195,446 additional infections and 3,509 deaths in the past 24 hours, bringing the total number of infected people to 23,305,183 of which 388,456 died.
After the Capitol Hill riot caused by the crowd supporting President Donald Trump on January 6, many MPs were infected with nCoV, a scenario that experts have warned.
Biden has repeatedly declared that the top priority after taking office is to tackle the pandemic.
India, the world's second-largest epidemic region, reported an additional 14,898 infections and 178 deaths, bringing the total number of people infected and dead from Covid-19 to 10,494,811 and 151,542, respectively.
Yesterday, Indian airlines began distributing Covid-19 vaccine nationwide, preparing to launch the world's largest vaccination campaign for 1.3 billion people.
Officials expect about 300 million people at high risk to be vaccinated against Covid-19 in the next 6-8 months.
Brazil, the world's third largest epidemic region, recorded an additional 1,073 deaths from Covid-19, bringing the total number of deaths to 204,690.
The Brazilian government has said it will launch the Covid-19 vaccination campaign in at least three weeks, after receiving criticism for its slow action, with a second wave of infections appearing from November 2020.
The Butantan Institute, a prominent Brazilian pharmaceutical maker that is working with Chinese biotechnology company Sinovac, said its Coronavac vaccine has achieved 50 percent efficacy in trials in Brazil.
Russia, the fourth largest epidemic region in the world, recorded an additional 22,934 nCoV infections and 531 deaths, bringing the total number of infections and deaths to 3,448,203 and 62,804 respectively.
Russian media reported yesterday that the US pharmaceutical company Pfizer said it was considering the possibility of applying for a Covid-19 vaccine license in the country.
The UK, the fifth largest epidemic region in the world, recorded 3,164,051 cases and 83,203 deaths, up 45,533 and 1,243 cases respectively.
More than 1.5 million people in the UK have been vaccinated with Covid-19 in the country's largest immunization program in history, with priority given to the elderly, their caregivers and health care workers.
France, the sixth largest epidemic region in the world, recorded an additional 19,752 cases and 452 deaths, bringing cases and deaths to 2,806,590 and 68,802 respectively.
The French government is considering the possibility of imposing a third national blockade, or extending the curfew being applied in some regions to a national scale.
Germany is the world's 10th largest epidemic region with 1,957,095 cases and 43,177 deaths from Covid-19, an increase of 16,018 and 1,080 cases compared to the day before.
Chancellor Angela Merkel yesterday warned Germany there is a need to extend the blockade until early April. "If we do not stop the new strain of the virus in the UK, we will see a 10-fold increase in the number of nCoV infections until now.
Germany last week stepped up a nationwide blockade and renewed it until the end of January, on fears that a variant of the nCoV strain discovered in the UK could spread heavily and overload hospitals in the country.
In Southeast Asia, Indonesia is the region's largest outbreak with 846,765 cases, an increase of 10,047, of which 24,645 people died, an increase of 302, a record high in a day.
The country today began its campaign to vaccinate Covid-19.
CoronaVac, the Covid-19 vaccine developed by Chinese biotechnology firm Sinovac, was approved for emergency use by Indonesia on January 11, with an efficiency level of 65.3 percent.
The Philippines reported 491,258 cases and 9,554 deaths, up 1,524 and 139 respectively, making it the second largest outbreak in the region.
Filipino officials said on January 10 that the country had secured 30 million doses of Covid-19 vaccine developed by US pharmaceutical company Novavax, and hoped to concentrate 148 million doses of vaccine from 7 companies this year,
Malaysia, another complex developing epidemic in Southeast Asia, recorded an additional 3,309 cases and 4 deaths, bringing the total number of infections and deaths to 141,533 and 559, respectively.
According to a statement from the royal palace of Malaysia yesterday, King Abdullah Sultan Ahmad Shah "assessed that the Covid-19 outbreak is at a very serious stage and needs to declare a state of emergency".
Malaysian Prime Minister Muhyiddin Yassin earlier announced strict new regulations in more than half of the country, including ordering people to stay at home and shutting down most businesses.
Last year Malaysia managed to control the epidemic with strict measures.