Protesters on the Hong Kong Polytechnic campus lighted a fire at the main gate early this morning, after being blockaded by police.
Police and protesters clashed violently at Hong Kong Polytechnic University (PolyU) since mid-afternoon amid escalating violence in the Special Administrative Region throughout the week. Protesters fired arrows at police, used slingshot to launch flares, set fire to buildings and bridges. They also threw flammable matter into an armored vehicle, causing it to ignite on a flyover near the campus.
"If they continue such dangerous actions, we have no choice but to use the minimum force necessary, including firing live ammunition, in response," Hong Kong Police Director Louis Lau said. know in last night's announcement.
Hong Kong first experienced protests and violent clashes lasted for a week since June. Previously, the protests only took place every weekend. Earlier last week, hundreds of riot police at the University of Hong Kong (CUHK) fired more than 1,500 canisters of tear gas to disperse the crowds. Protesters then moved to the campus of other universities, including PolyU, which led to sporadic clashes since the morning of November 14. By the evening of November 15, after four days of occupation, protesters suddenly left CUHK to transfer to the PolyU campus.
Around 10 pm on November 17, police called for protesters to leave PolyU. By 11:00 PM, dozens of protesters were arrested and hundreds remained in the buildings. 2am this morning, a group of parliamentarians offered to go to school and take people ready to leave, but the police refused. Several hours later, several loud bangs were heard before the "firewall" set up by protesters lit the main PolyU gate, according to AFP correspondent.
In a video to the media, PolyU President Teng Jinguang called on protesters to leave the campus. "The police make sure not to use force if the protesters do not use force. The police also agreed to let people leave the campus peacefully," he said.
Protesters wearing gas masks around 8am this morning tried to leave the PolyU campus, but they had to withdraw after police fired tear gas. Police blockade the main roads and access to schools, preventing anyone from entering or leaving. They said they only performed the task of dispersing the crowd and arresting violent protesters.
Ken Woo Kwok-wang, president of the PolyU student union, said that about 600-700 people are on campus, of which about half are PolyU students.
"We are trapped and there is not enough food. The number of injured people is increasing and the sanitary situation is worsening. They are trying to push students to a dead end. More than 50 first aid workers are in the mold." school staff to take care of the injured, "Woo said, at the same time calling on various organizations, including international groups, to support PolyU.
Outside PolyU, at the nearby Urban Council Central Garden, riot police repeatedly dispersed crowds or followed, spraying tear gas at protesters. At least 7 people were arrested and taken away by the police, one injured in the head.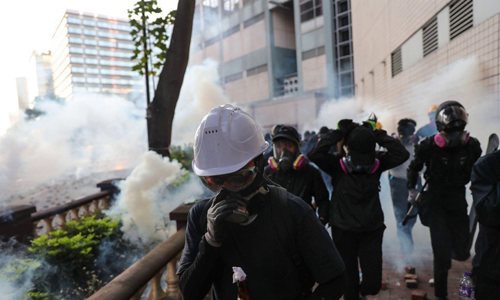 Protesters and protesters in Tsim Sha Tsui district set up bamboo fences on Nathan Road, the main road with many traffic. Many people told CNN they did this to disperse police from PolyU, where many protesters were tired and showed signs of exhaustion.
Police confirmed on Facebook that they had fired three live bullets in the Tsim Sha Tsui district at about 3:00 am when "riot crowds" attacked the police.
Protesters claim to continue to put the city in a state of congestion in part by blocking major roads and disrupting public transportation, in order to disperse police forces.
The number of people arrested and injured is unknown after 24 hours of clashes. The city's public transport was interrupted due to the closure of many subway stations. An important tunnel through the harbor linking Kowloon (Kowloon) to Hong Kong Island was closed due to tensions at PolyU.
Hong Kong protests erupted in early June to protest the extradition bill that allows criminals to be brought into jurisdictions where the Special Zone has not signed an extradition treaty, including mainland China. Although the special zone government announced the withdrawal of the bill, protesters still took to the streets to make other claims, including a request to investigate the use of force by the police, asking Hong Kong leader Carrie Lam from function.
Many universities, including the Chinese University of Hong Kong and the University of Hong Kong, finished their semester early. Students of the exchange program with foreign countries rush to return home. The school district also canceled classes at all schools across the city today.
In addition to the police statement, the Hong Kong government has not yet voiced new developments. But last week, Carrie Lam condemned the violence and declared the escalation of violence would not make the government respond to the protesters' requests.
China accused the West of being behind protests in Hong Kong and expressed support for Carrie Lam. Chinese President Xi Jinping on November 14 said that unrest in Hong Kong "seriously trampled on the rule of law and social order", challenging the fundamentals of a one-nation, two-state model. regime. Xi asserted that preventing violence, controlling riot and restoring order are urgent tasks for Hong Kong.