Indonesia captured an Iranian tanker and a Panamanian vessel suspected of illegally carrying oil in this Southeast Asian national waters.
The Indonesian government said today that crude oil tanker MT Horse carrying the Iranian flag and MT Freya carrying the Panama flag was discovered on January 24 off Kalimantan, an area on the Indonesian island of Borneo and arrested after the crew did not return.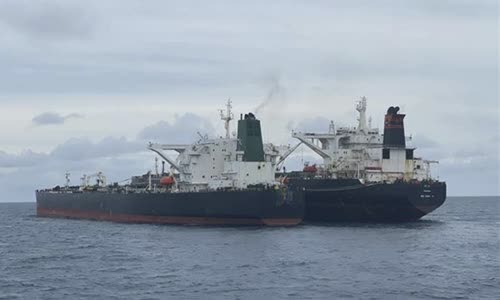 Indonesian officials say the ships "caught" are transferring oil from the MT Horse to the MT Freya and there is a speck of oil around the receiving vessel.
The Indonesian Maritime Security Administration said the crew on the two ships were suspected of a series of violations, including not displaying the national flag, turning off the identity system to avoid detection and illegal oil transfer.
"We arrested two foreign tankers yesterday and the investigation is underway. 61 crew members have also been arrested and are being questioned," said Maritime Security Agency spokeswoman Wisnu Pramandita.
Shipping data on the Refinitiv Eikon shows that both super-ships, each capable of carrying two million barrels of oil, were last discovered earlier this month off Singapore.
NITC has not yet commented.
Iran has previously been accused of trying to conceal oil sales to evade US sanctions.
The move is part of a broader effort to end all important Iranian oil exports, seeking to cut off all cash flows for the country.