Covid-19 broke out in Japan, causing candidates who take the high school exam today to wear a mask during the test.
At a test site in Kamigyo, Kyoto, Japan, students today wore masks when taking the test and were prepared to wash their hands in the room.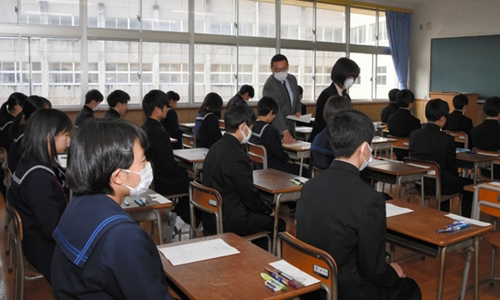 The Japanese government has ordered all primary and secondary schools to be closed from March 2 to the end of spring break in early April, but many localities still take the high school exam this month.
Hokkaido prefecture, which records nCoV infection among a student and teacher, is still planning to take the high school exam this month. Education officials in the province said candidates who were unable to take the test due to infection would not have to take the test, but undergo a "special screening" process based on the results of the essay and interview.
Chiba Prefecture also plans to continue with the exam, which allows candidates who are unable to take the official entrance exam to take an additional test 16 days later.
Ishikawa Board of Education also proposed to hold a hospital examination for infected candidates. "In view of ensuring the opportunity to take the exam for the candidates, we are very willing to accept the exam at the hospital, if the doctor allows the doctor," officials of the board of education said.
Japanese Prime Minister Shinzo Abe made the decision to leave school one month after the Hokkaido Education Board called on the government to close all 1,600 primary and junior high schools in one week to avoid Covid-19 infection.
The Covid-19 epidemic has been reported in 90 countries and territories, causing more than 98,000 people to be infected, including more than 3,300 deaths and more than 55,600 recovering. Japan currently has more than 360 positive cases of nCoV, 6 deaths and nearly 700 cases on the Diamond Princess yacht.