After more than a month of Covid-19 hospitalization, Wu Di did not know his father, Wu Chuanyong, 68, who died of nCoV infection.
Before Covid-19 swept Wuhan, Mr. Wu Chuanyong was enjoying a peaceful old age in the capital city of Hubei Province. His day begins with walking in the park and ends with films on television in the evening.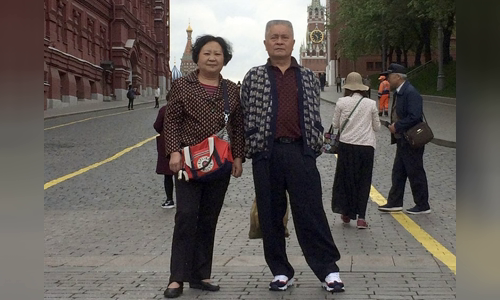 "My father is very frugal and cares about the youngest. He took care of them since childhood, because he is the oldest," Di, 34, said.
The Wu family's Chinese New Year gatherings were always full of affection, but this year, things were different. By the end of January, Di and her mother had a fever of 39 degrees. Three days later, his father also had a fever of 39 degrees, his mother-in-law started to cough.
A few weeks later, they all tested positive for the disease, which was later named Covid-19, caused by nCoV, first discovered in Wuhan and led to a global pandemic.
Di and his parents were put on a waiting list, but had to wait a few more days. At midnight, the ambulance finally parked in front of his parents' house, while Di was being treated at another hospital.
An ambulance took Di's parents to the hospital and when they turned away, Mr. Chuanyong collapsed. He then never woke up again.
Not wanting his son to be psychologically affected while undergoing treatment, Di's mother and his wife kept his father dead. However, Di still felt that something was wrong with her mother's voice in the phone.
"When I asked how Mom was, she said 'he is normal'," Di recalled.
Dad Di is just an ordinary person. However, he lived through an extraordinary period of Chinese history. During his youth, Di's parents were transferred from the big city to the countryside to work and explore. They go through so miserable life that there is only one bean dish to eat.
Circumstances gave Chuanyong an economical and industrious nature. Their family rarely eat meat and seafood, also wear clothes until they can no longer wear to dare to leave. Although living a simple life, Di said his father always guaranteed his wife and children everything essential.
Their living standards have been greatly improved thanks to the development of China's economy. After retirement, Chuanyong and his younger brothers began traveling on tour. Last year, the couple even went to Russia and the UAE.
Then Covid-19 happened. On February 19, Di's mother was discharged from the hospital. She told him that the clothes of both of them were destroyed to avoid infection. Still holding the last hope, Di didn't ask too much about his father.
Di still hasn't fully recovered and was released from the hospital in March. Two weeks later, his wife, Peng Jing, said that she needed to discuss something serious.
"I know," Di told his wife.
Di did not blame his family for hiding his father, but he regretted not being able to see his face one last time. Even if you knew it, it was impossible due to strict quarantine regulations.
After three months of outbreaks, the disease in Wuhan was almost under control as the number of new daily infections dropped significantly. In recent weeks, travel restrictions have been relaxed and the city blockade order will be lifted on April 8.
However, authorities warn that the risk of Covid-19 recurrence is still high, due to both internal and external risks, and at the same time urging people to remain indoors, maintain preventive measures and disease control.
Peng Jing is the only family member not infected with nCov. She encouraged her husband "to live like a hero" to be worthy of his father, the breadwinner of the family.
"The survivors must live the life of the departed," Peng said.