US Bill Bill Lapschies, 104, from Oregon, recovered from nCoV infection, becoming the oldest person in the world to win Covid-19.
Lapschies developed symptoms on March 5 and was quickly quarantined at the veteran care center Edward C. Allworth in Oregon, where he lives.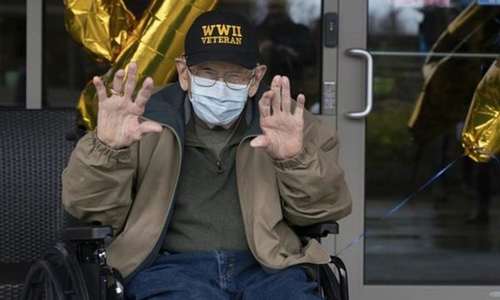 He was one of the first two people at the center on positive nCoV. The other is an old man over 90 years old, who passed away. To date, the Edward C. Allworth Center has recorded 16 cases of nCoV, of which 8 have recovered, two have been critical, two have died, one has no symptoms and three have remained stable.
According to Dr. Rob Richardson, Lapschies' condition is rated as "average". During the treatment, he had no serious respiratory problems.
The Edward C. Allworth Center confirmed it has screened visitors to the facility and restricted visits from February but still could not prevent the virus from entering. By the beginning of March, the whole center was isolated. The two nurses who had been in contact with Lapchies were also positive for nCoV.
He celebrated his 104th birthday with his family on April 1, 25 days after the first symptoms of infection appeared. His family brought balloons and cake to congratulate. Everyone obeys the rule to keep a distance of at least two meters.
Covid-19 is thought to be particularly dangerous for the elderly, especially those with underlying medical conditions. According to the Centers for Disease Control and Prevention (CDC), 80% of the deaths from nCoV in the country are elderly.
However, there have been many cases of elderly people getting infected and recovering in the world. In China, Ms. Zhang Guangfen, 103 years old, recovered after 6 days of treatment in Wuhan. A 103-year-old woman in Iran also recovered after a week of hospitalization for Covid-19. In Genoa, Italy, Italica Grondona, 102, recovered after 20 days of hospitalization. In South Korea, the oldest person to recover was a 96-year-old woman from Cheongdo County.