The Russian army mobilized 8,000 troops and many modern armaments to participate in the anti-air ground exercise from October 14 in the Far East.
"A large-scale anti-amphibious exercise has kicked off in three arenas in the Primorsky and Sakhalin areas of the Eastern Military District," the Russian military said today.
More than 8,000 soldiers, 3,000 weapons, weapons and more than 50 fighters and helicopters will participate in the drill. The main phase of the drill will take place at the Uspenovsky Stadium in the Sakhalin region.
The representative of the Eastern Military Region said that T-80 tanks, BMP-2 infantry fighting vehicles, Giatsint self-propelled guns and Grad jet guns will be deployed in the exercises. Fighter squadrons such as Su-30SM fighters, Su-25SM, Su-24M2, Su-24MR and MI-8AMTSh helicopters were also used.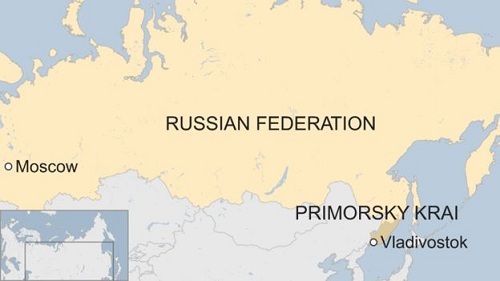 The Russian military has recently organized large-scale drills amid growing tensions with the West over Ukraine and Crimea. Southern Russian Air Defense units in August fired more than 300 missiles during a large-scale exercise in the Astrakhan region, involving more than 100 aircraft and helicopters.
Location of Primorsky region of Russia. Graphics: BBC.