Deputy Prime Minister Pham Binh Minh said Covid-19, competition for big countries are the challenges that make Vietnam need to consolidate intra-regional solidarity, strengthen ASEAN's role and deal with epidemics effectively.
"2020 - the year Vietnam is the Chairman of ASEAN, is a very special year with many great challenges, notably the rapid spread and far-reaching global impact of the Covid-19 pandemic.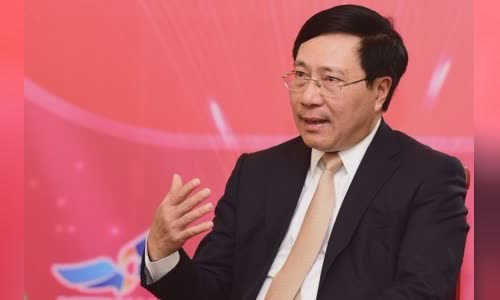 "In 2020, there will also arise many other complex challenges such as fierce competition for big countries, multilateralism facing many difficulties, international law is not respected in many places," the Deputy Prime Minister added.
He pointed out that ASEAN was one of the first regions to be affected by the Covid-19 pandemic, which was also affected by major country competition and other geostrategic challenges.
ASEAN cooperation in 2020 has been affected by the impact of Covid-19.
Virtually all ASEAN 2020 meetings will be held online.
"With high determination and effective cooperation and support of partners inside and outside ASEAN, Vietnam has overcome technical and technological difficulties; successfully and effectively organized all associations.
Assessing the most important achievements that ASEAN achieved this year, the Deputy Prime Minister emphasized that "intra-regional solidarity has been strengthened, ASEAN's role and prestige has been enhanced, ASEAN's cooperation priorities continue.
Specifically, the momentum of ASEAN Community building has been maintained, the goals and plans set out for ASEAN 2020 have been basically completed, the bloc coordinated well in combating Covid and economic recovery, the central role
Vietnam is one of the rare regional and worldwide bright spots about Covid-19 containment.
The Deputy Prime Minister also pointed out that in parallel with epidemic prevention, Vietnam strives to stabilize production and business, ensure social security, encourage people and businesses to unite, support and help
Regarding the East Sea issue, the Deputy Prime Minister said that by 2020, ASEAN will continue to emphasize the importance of compliance with international law in resolving disputes in the South China Sea;
"ASEAN should continue to assert its principled positions on the South China Sea issue in the coming time. At the same time, the South China Sea issue should continue to be an important topic of discussion on ASEAN's agenda for