Iran's Supreme Leader Ayatollah Ali Khamenei accused the British, French and German governments of being "US henchmen" for putting Washington under pressure on a nuclear deal.
At a prayer meeting on January 17 in Tehran, Iranian Supreme Leader Khamenei criticized the British, French and German governments for being "cruel" for "threatening to bring Iran's nuclear issue to the UN Security Council" .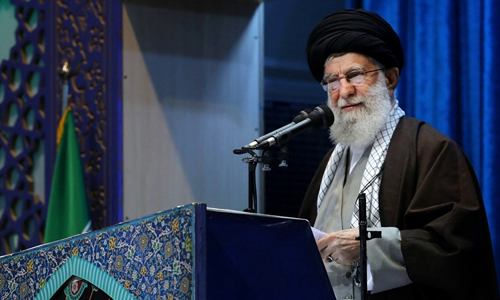 Britain, France and Germany announced on January 14 that they have begun to apply a so-called dispute mechanism in an effort to bring Iran back into full compliance with the terms of the nuclear deal.
Iran's Supreme Leader said the introduction of a dispute mechanism was intended to "overshadow" the US air attack on killing Iranian General Qassem Soleimani in Baghdad earlier this month. Last week, Iran conducted missile strikes on two bases in Iraq with US troops garrisoned to avenge Generalimimani.
Khamenei also accused European governments of carrying a historic hostility toward Iran.
"These three countries are the ones that have helped Saddam Hussein as much as possible (during the Iran-Iraq war)," he said, referring to the former Iraqi president. "Now, after a year, they have proven themselves to be US minions ... and these cowardly governments are waiting for Iran to surrender."
According to German Defense Minister Annegret Kramp-Karrenbauer, the US has threatened to impose a 25% tax on cars imported from Europe if the government of the European Union (EU) continues to support the Iran nuclear deal.
The nuclear deal was signed by Iran with France, Britain, Germany, the United States, China and Russia in 2015 but is on the brink of collapse after Washington withdrew a few re-imposition of economic sanctions on 2018. with Tehran. In response, Iran has gradually reduced some of its commitments to the deal that severely limits its nuclear activity.