A new study published in Nature shows that the Covid-19 mortality rate in Wuhan, where the disease was triggered, is about 1.4%.
The study was published March 19 in the journal Nature, an English-language multidisciplinary journal, published by Nature Publishing Group, a branch of Georg von Holtzbrinck Publishing Group, UK. The study said that as of February 29, Wuhan recorded 48,557 infections and 2,169 deaths.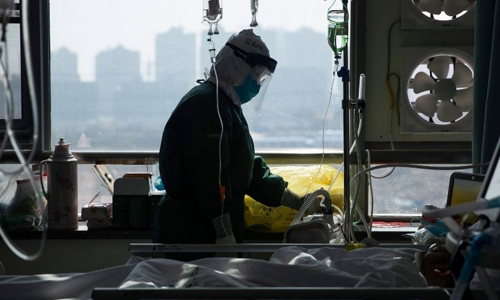 The death rate from Covid-19 is much higher than that of the flu, which infects millions of people every year but the death rate is only about 0.1%.
The World Health Organization (WHO) earlier this month warned the global nCoV death rate could be as high as 3.4%. The death rate in Italy, the European epidemic, was 8.3%, double the global average. The aging population and overcrowded hospitals are two of the causes of high death rates in the country.
The study authors found that people aged 60 and over were 5.1 times more likely to die from Covid-19 than those aged 30-59. However, they are still figuring out exactly who is most at risk of serious complications or death from nCoV.
Most children often have mild or moderate symptoms. The elderly, people with underlying medical conditions are said to be the most vulnerable. Age is one of the factors considered in the study, but in France, more than half of the 300 patients were at risk of being under 60, according to AP.
Medical experts say that although the Covid-19 mortality rate in Wuhan according to the study, lower than the global rate, is still alarming. "We know this is a highly contagious virus, with all the data showing it is more contagious than flu," said Dr. Sudeb Dalai, an infectious disease specialist at the University of Medicine. Stanford, USA said, added that there is currently no natural immunity in the population for this virus. "We had hoped that the mortality rate due to the disease would be lower than this," he said.
Tener Goodwin Veenema, a professor of nursing and public health at Johns Hopkins University, said the new study in Nature highlighted the importance of implementing community isolation measures and other measures, to prevent the spread of the disease.
New research published in the context of Covid-19 has appeared in 179 countries and territories, causing more than 245,000 people infected, more than 10,000 people died. The number of infections in the United States, the world's leading developed health country, has exceeded 14,000 and more than 150 have died from the disease.
The study authors acknowledge that their findings do not apply to other countries, especially those where the virus is more active or has more treatment options than Wuhan and the rest. Chinese again.