Trump joked that the two turkeys waiting for him to forgive Thanksgiving received a warrant from the US House of Representatives to testify against him.
"It is fortunate that Bread and Butter (the names of the two turkeys) are specially cared for in order to remain calm under any circumstances. This is extremely important because they have just received a summons to Adam's basement. Schiff, "said US President Donald Trump at the White House on November 26, referring to the chairman of the House Intelligence Committee.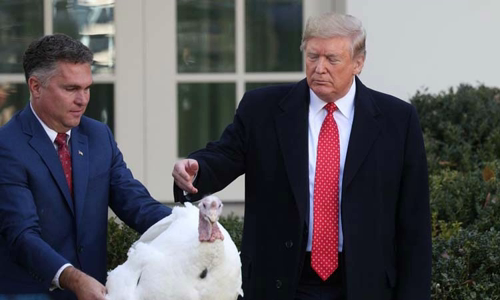 "However, I should note that unlike previous witnesses, Bread and Butter actually met me," Trump added. The White House boss also sarcastically told the press wants to dig up the story because "turkeys are closely related to vultures".
Trump appeared with First Lady Melania during the turkey absolution at the Rose Garden at the White House, the event was first held in 1947 under the late President Harry Truman and was George H.W. Bush has been a tradition of the White House since 1989.
Two Bread and Butter Turkeys from Butterball Farm in Clinton, North Carolina, are named by students at nearby Harrells Christian Academy and raised by Wellie Jackson Farm Owner.
Before the pardon ceremony, the two chickens were resting in a double room at the 5-star Willard hotel in Washington. Traditionally, the US president would choose one of the two chickens to forgive. After a 24-hour online poll, Bo won closely against Bread.
"Butter, I wish you good luck. Therefore, I forgive you fully and completely," Trump said during the ceremony.
After the pardon, Bread and Butter will be taken care of at Virginia Polytechnic Institute, Blacksburg, Virginia, with two turkeys at last year's pardon. The 4 chickens pardoned by Trump in 2017 and 2016 died here for natural causes.