Trump did not want to respond aggressively to the pro-Iranian militia attacks on US troops in Iraq because Covid-19 was complicated.
Four incumbent officials and a former US official said President Donald Trump last week told top national security advisers that a strong response to recent attacks on US troops stationed in Iraq is unlikely. must be the right step in the current situation.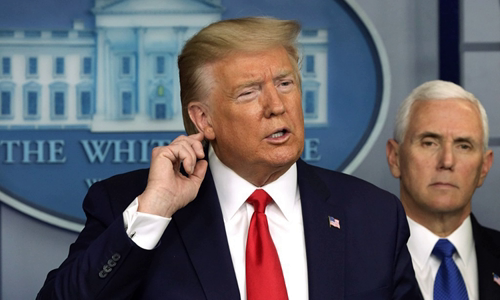 He expressed concern that retaliation against Iran for backing militant groups to raid US troops in Iraq would worsen America's image, as Iran and the rest of the world struggled to stop Covid-19. Trump made the comment at a meeting with leading national security advisers on the response options following recent attacks in Iraq.
Pro-Iranian militants are believed to have carried out four rocket attacks against US-based bases in Iraq and the Green Zone in Baghdad on March 11-17. The rocket fired on 11/3 on the Taji base killed an English soldier, a soldier and an American civil contractor.
The White House has yet to comment on the information.
Kataib Hezbollah, a pro-Iranian militia group in Iraq, on March 11 launched 30 rockets at the Taji base, north of Baghdad, where US and NATO troops were stationed, leaving three dead and 14 injured. Iraqi militants on 14 March continued to fire 56 rockets into the base, injuring three American soldiers and two Iraqi soldiers.
The US military did not respond to the March 11 attack, but has not retaliated for the March 14 attack. US Secretary of State Mike Pompeo on March 17 announced sanctions on nine entities and three individuals who participated in assisting Iraqi militia in attacking US targets in the country.
Experts say this is a noticeable change in Trump's approach to Iran, which is often aggressive when Covid-19 takes place. Trump has repeatedly tightened sanctions on Iran and repeatedly threatens a military attack, even warning that "if Iran takes action, they will receive unprecedented strong repercussions."
Earlier in January, Trump was controversial for ordering the air force to kill Major General Qassem Soleimani, commander of the Quds task force of Iran's Islamic Revolutionary Guards, who is said to be in charge of the civilian forces. Tehran pro-soldiers operate in Iraq.
Iran is one of the countries heavily affected by Covid-19, with more than 18,400 cases and more than 1,200 deaths, including many high-ranking officials and advisers. Iranian media warn that millions of people in the country could die from nCoV if they do not follow the Covid-19 prevention guidelines.