Cameroon wide -brimmed hat protects her face from the sun, Jeanne regrets skin cancer after many years of using whitening cream.
Jeanne, 63, is one of many Cameroon women, a country in Central Africa, using controversial skin whitening products.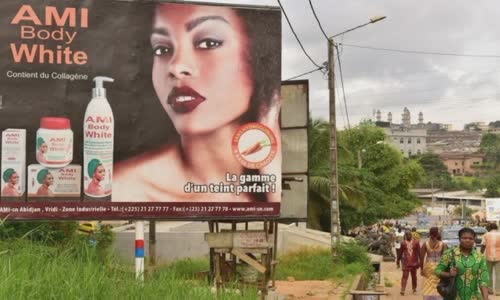 I felt ashamed when people looked at me, the woman working as a business in the capital Yaounte expressed.
Advertising signs whitening products on Ivory Coast.
After a lesions appear on the face for more than 5 months, she went to the doctor and was diagnosed with one of the most common skin cancers.
Jeanne, like millions of people around the world, use skin whitening cosmetics with the desire to have a bright bright skin, the advertisement that the beauty industry often uses.
According to the Cameroon Dermatology Association (Socaderm), 2019 statistics show that nearly 30% of people in Duala, Cameroon's economic capital, and nearly a quarter of female students use skin whitening products.
For people like Annette, a 20 -year -old student, the consequences that cosmetics whiten skin are very heavy.
Under the intense sunshine, my face was hot and forced to stop using skin cream, she said.
In Cameroon, products called instant white or super white stand out on sales shelves with images of advertising women with bright white skin.
The wrath begins in the summer, after social network users criticize MPs Nourane Fotsing for opening a company selling skin whitening products.
One of those chemicals is hydroquinone, banned from use in Europe since 2001 because of the risk of cancer and gene mutations.
Hydroquinone is one of the most used substances in Cameroon whitening products, according to the 2019 study of Yaounte University.
We encounter many patients complaining about the symptoms related to skin pigmentation every day, Alain Patrice Meledie Ndjong, a dermatologist at a hospital in Duala, said.
According to the World Health Organization, skin whitening cosmetics are very popular in many African, Asian and Caribbean countries.
Ndjong warns some substances when entering the body can cause diabetes, obesity, hypertension or liver failure, kidney failure.
The standard of beauty due to communication, advertising and marketing for a long time has strengthened the prejudice that bright skin is more beautiful than dark skin, he said.
Sociologist Achille Pinghane Yonta, Yaounde University, said that the reason why skin whitening creams are still psychologically because they want to look like Westerners.
But the Pascaline Mbida girl feels different.
But the cost of beauty also caused Mbida to have a headache because she was unemployed.
WHO in 2019 said that the skin whitening industry is one of the most developed industries in the world, estimated at US $ 31.2 billion in 2024. The cosmetic market and personal hygiene products in Cameroon increased by 7%.
Since the Cameroon government baned the ban on skin whitening products containing dangerous chemicals, the police have conducted many raids.
The demand for breast implants in cosmetic surgery of Russian women is very large, but lacks import supply due to the influence of the Western sanctions.
People's Daily said that adjusting the overwhelming beauty ads is urgent and urgent, when they become rampant, even false.