The C-17A aircraft of the Australian Air Force coaches low among skyscrapers to prepare for performances in Queensland.
Heavy transport C-17A carrying Stallion 63 of the Australian Air Force to perform a lesson at the height of only about 100 m in the city center of Brisbane on September 23, to prepare for the Riverfire Festival event to perform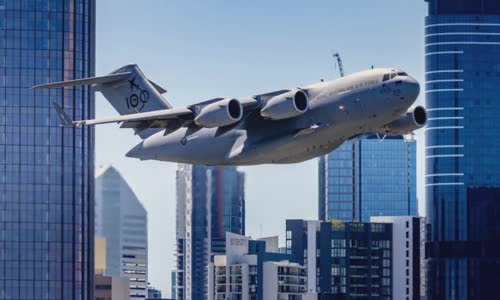 The images taken by the Brisbane people show that the C-17 downstream, maneuver and fly between some buildings.
The C-17A flies between skyscrapers in Brisbane, Australia, on September 23.
Riverfire Festival is an event that ends the 3-week Brisbane Festival art culture chain that is held at the end of September annually in Eastern Australia.
Low flights through the space between the skyscrapers of the C-17A transportation began to be made since 2017. Most people show interest in this performance, but some people give
C-17 Globemaster III is a heavy military transport aircraft developed by McDonnell Douglas in the late 1980s aiming to transport strategy and tactics, allowing to bring weapons and soldiers to arrive
Aircraft with 53 m body length, wide 51.75 m wide.