Cuba allows significant economic re-opening when resuming activities of many businesses, thanks to the accelerating Covid-19 vaccination campaign.
From September 24, bars, restaurants, trade centers and beaches in 8 out of 15 provinces with NCOV infections decreased in Cuba, including Havana, are allowed to operate again.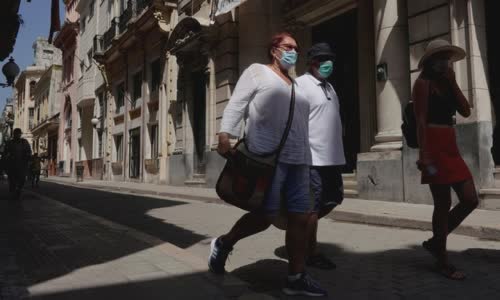 In recent days, we have identified the conditions to gradually reopen on-site services, the Trade Minister of Cuban Betsy Diaz said.
Cuban Health officials said the number of NCOV infections this month began to decline from the peak in the summer, amid the vaccination campaign accelerated with the target of more than 90% of the population in mid-November.
Earlier the month, Cuba asked the World Health Organization (WHO) to begin the evaluation process to recognize the country's domestic vaccines.
People walk in the central Zone of Havana, Cuba, on August 3.
Meanwhile, the world has recorded 231,815,044 cases of NCOV, 4,749,819 deaths, and 208,405,331 people have recovered, according to real-time Worldometers statistics page.
America, the world's largest epidemic area, recorded a total of 43,631,033 cases and 704,831 cases of death for Covid-19, in the context of the Health Officials this country recommends a boosted vaccine of Pfizer for three
US President Joe Biden said 20 million of which injected the second Pfizer vaccine dose long enough, ie at least 6 months, to go to the injectation to enhance now.
Rochelle Walensky, Director of the American Disease Control and Prevention Center (CDC), said the enhanced nasal data from Moderna and Johnson & Johnson will be assessed in the coming weeks.
US experts are also closely monitoring R1 strains, first discovered in Japan last year.
In Europe, the Norwegian government announces re-opening social enthusiasm from today, terminating measures to restrict social interaction and make businesses difficult.
561 days since we gave the most toughest measures in Norway in Binh Binh.
Due to the regulation of social ways to be removed, cultural, sports and restaurant locations are operating at full capacity instead of only part of the seat.
However, Prime Minister Solberg warned people who infected NCOV still had to avoid spreading the virus, adding that the pandemic was not over.
In Southeast Asia, Singapore officials on September 24 decided to tighten limited measures once again, in the context of new cases to the highest since the pandemic began.
As a new regulation takes effect from September 27 to October 24, up to two people are allowed to dine at the restaurant, provided that they have a Covid green card.